Typhoon Hagupit Brings Increasing Disaster Risk into APEC's focus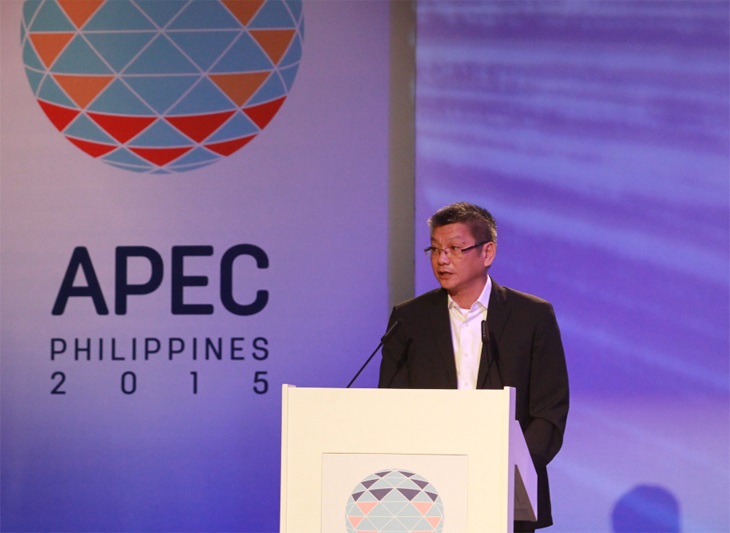 Senior Officials from the 21 APEC member economies, the world's largest regional economic group, will meet Tuesday in Manila to launch their agenda for collaboration during the Philippines' year as APEC Chair in 2015 after the proceedings were preemptively moved from Legazpi City, Albay 500km to the southeast on account of Typhoon Hagupit (Philippine name: Ruby) which barreled through the area over the weekend.
Priorities detailed at the APEC Informal Senior Officials' Meeting, or ISOM, will focus on ensuring that the benefits of deepening Asia-Pacific partnership are felt by more people. Strengthening the capacity of the region's economies to withstand the growing onslaught of natural disasters will be among the issues taken forward. A public-private sector symposium on APEC 2015 priorities on Monday will offer policy guidance, to be opened by the Philippines' Executive Secretary Paquito Ochoa Jr., Trade and Industry Secretary Gregory Domingo and Socioeconomic Secretary Arsenio Balisacan.
"Typhoon Hagupit is yet another red flag moment, following virtually the same path across the Philippines as Haiyan just 13 months ago and underscoring the escalating natural disaster threat we all face," said Dr Alan Bollard, Executive Director of the APEC Secretariat. "The fact that disasters are increasing in frequency and ferocity, and disproportionately impacting a region of nearly three billion people, which also happens to be the world's growth engine, is a serious cause for concern—both for areas in the direct line of fire and the global economy at large."
Collectively, APEC member economies account for 40 per cent of the world's population, half of all trade, 60 per cent of total gross domestic product and much of global growth at present, driven by emerging markets like the Philippines. They also experience more than 70 per cent of all natural disasters – ranging from extreme weather to earthquakes, tsunamis and volcanic eruptions – and suffered USD68 billion annually in related costs from 2003 to 2013, giving impetus for greater joint action to enhance emergency preparedness and expedite recovery.
Measures in view include advancement of a new Emergency Response Travel Facilitation initiative to ease customs and immigration bottlenecks to the rapid deployment of emergency responders, equipment and private sector assistance in a disaster. Implementing an ambitious multi-year business continuity planning training program is another, in coordination with the private sector and prioritizing grassroots engagement with small and medium enterprises that account for 97 per cent of all firms and over half of the workforce among APEC economies.
"Disruptions to cross-border production chains put entire industries, huge numbers of jobs and global trade and economic growth at considerable risk," explained Dr Bollard. "Addressing vulnerabilities within the SME sector is critical, particularly given their importance as suppliers of parts and materials to many large manufacturers and the opportunities that exist for them to play a more significant role as a driver of commercial innovation and value-adding trade."
The introduction of a ground-breaking Global Trade Recovery Information Platform, or G-TRIP, to facilitate the exchange of critical information during major transportation disruptions, in collaboration with the World Customs Organization, will be a further point of emphasis. Others include new measures to boost disaster risk reduction in public infrastructure project evaluation, the incorporation of geospatial data in disaster management frameworks and the application of "big data" and "open data" to emergency preparedness.
"Typhoon Hagupit is a frightening reminder of the importance of building greater resistance to shocks across our communities, our businesses and our critical infrastructure," Dr Bollard concluded. "By stepping up knowledge transfer and harnessing technological breakthroughs, we are not only increasing our capacity to save lives but also keep economies moving to ensure people's livelihoods, rapid recovery and resilient growth when it's needed most."
See related:
Learn more about cooperation in APEC to improve emergency preparedness, disaster risk reduction and recovery at this link.
The APEC Philippines 2015 kick-off speech delivered by President Benigno Aquino III and additional issues and actions that will be in the spotlight at ISOM are detailed here.
See video of President Aquino's APEC Philippines 2015 kick-off speech at this link.
# # #
For further details, or to arrange possible media interviews, please contact:
David Hendrickson +65 9137 3886 at [email protected]
Michael Chapnick +65 9647 4847 at [email protected]
More on APEC meetings, events, projects and publications can be found on www.apec.org. You can also follow APEC on Twitter and Sina Weibo and join us on Facebook and LinkedIn.