Disaster-prone APEC economies step up risk-reduction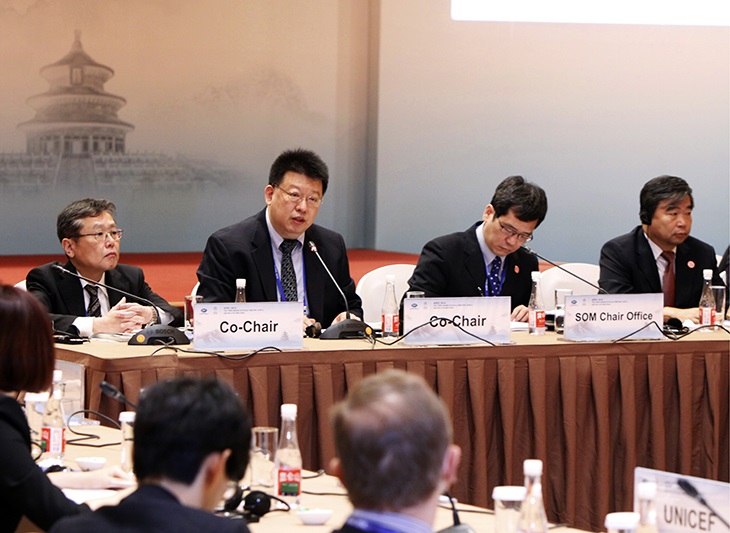 Senior Disaster management officials from APEC economies, meeting in Beijing in the aftermath of the Ludian Earthquake in Southwest China, have detailed new far-reaching measures to strengthen relief and risk reduction capabilities across the Asia-Pacific, the world's most disaster-prone region.
Upon observing a moment of silence for the victims of the 6.5 magnitude quake, officials were briefed on efforts to help survivors and speed recovery, and sanctioned deeper cooperation to protect against future emergencies. Joint actions are being taken forward in technical capacity building exchanges between APEC economies here through next week.
"The frequent occurrence of natural disasters poses a serious threat to lives and the economic health of the entire region," cautioned Dou Yupei, China's Vice Minister of Civil Affairs, in remarks to the 8th APEC Senior Disaster Management Officials' Forum. "We must join hands to reduce disaster risk and guarantee the coordinated development of society, economy and the environment."
APEC economies, home to nearly three billion people, are hit by over 70 per cent of natural disasters worldwide and suffered USD68 billion annually in related costs from 2003 to 2013.
"Losses from earthquakes, floods, tornadoes, typhoons and other disasters, as well as the risk of manmade emergencies, including those in the transport and energy complexes, are rising," noted Vladimir Puchkov, Russia's Minister for Emergency Situations. "Tasks of more efficient coordination and collaboration stand starkly in front of us."
Officials agreed to work more closely together to limit disruptions to the cross-border movement of people and goods which is needed to expedite relief and recovery efforts in areas directly affected by disasters, and ensure global production and supply chains vital to the security of economies throughout the region and globally.
APEC economies are advancing a new Emergency Response Travel Facilitation initiative in support of these objectives. The initiative is focused on resolving customs and immigration bottlenecks to the rapid deployment of emergency responders, equipment and private sector assistance critical to saving lives after a disaster strikes.
The creation of a regional network of crisis management centers and building global supply chain resilience based on the sharing of real world experiences are further priorities. This includes coaching governments on logistics and supply chain post-disaster recovery and offering guidance to transportation firms on bolstering infrastructure resilience and connectivity.
"There is a lot of ground to cover to build the capacity of economies, and the businesses and workforces that power them, to deal with the torrent of disasters in the region," explained Dr Li Wei-sen, Co-Chair of the APEC Emergency Preparedness Working Group. "A fundamental challenge is raising awareness of disaster risk and the need for appropriate planning."
APEC economies are stepping up the promotion of business continuity planning among risk heavy small and medium enterprises which account for around 90 per cent of businesses and 60 per cent of employment in the region. To this end, group training exercises are being organized to help SMEs identify their vulnerabilities and organize teams to address them.
"Harnessing technological breakthroughs in each phase of disaster risk management is key to bridging resiliency gaps," concluded Natori Kiyoshi, who also Co-Chairs the APEC Emergency Preparedness Working Group. "This is not limited to search and rescue but the whole process of disaster risk management—from preparedness to recovery and reconstruction."
New collaborative projects are in the works within APEC to boost the application of "big data" and "open data" to emergency preparedness, incorporate geospatial data in disaster management frameworks, increase attention to disaster risk reduction in public infrastructure project evaluation and support community-based disaster risk management.
For more:
Downloadable high-resolution photos from the 8th APEC Senior Disaster Management Officials' Forum are available at this link.
# # #
For additional information, or to arrange possible media interviews, please contact:
David Hendrickson +65 9137 3886 at [email protected]
Michael Chapnick +65 9647 4847 at [email protected]
Details about APEC's 2014 priorities and initiatives can be found on www.apec.org. You can also follow APEC on Twitter and Sina Weibo and join us on Facebook and LinkedIn.