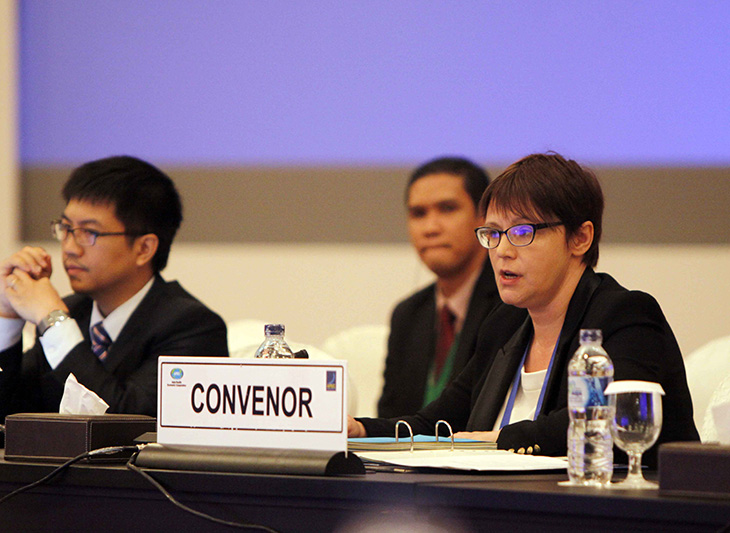 APEC economies are improving border entry for air travelers
Medan, Indonesia, 25 June 2013
APEC member economies are making air travel easier for the increasing number of passengers in the region.
Further improvements to a scheme that expedites travel and border entry for businesspeople across the 21 APEC economies was the focal point of discussions by immigration and security officials who met on Monday in Medan.
"The APEC Business Travel Card is a globally unique initiative designed to encourage business growth within the APEC region," said Agnieszka Holland, Convenor of the APEC Business Mobility Group. "The Business Mobility Group is committed to expanding and improving the scheme."
"Our goal is to simplify things as much as possible for those who conduct business between Asia-Pacific economies," Holland explained. "This means seeking out opportunities to improve efficiency and service for businesspeople."
Through a single application, the APEC Business Travel Card, or ABTC, scheme offers businesspeople a three-year, multiple, short-stay entry and express lane access at key immigration checkpoints in Asia Pacific economies.
The development of the scheme is a component of APEC's broader efforts to build greater connectivity in the region to drive growth.
"Strong regional growth of the scheme and commitment of participating economies make this initiative a scheme of choice for regional business," Holland said. "This is evidenced by the ascension of Russia to full membership on 1 June 2013 and the continued work of Canada and the United States towards full membership."
Collectively, APEC officials continue to engage in a dialogue on emergency response travel facilitation for personnel and equipment in the Asia-Pacific Region in times of disaster.
"We need to consider working in partnership with the aviation industry to optimize emerging technologies such as advanced passenger information or automated border control systems," Holland noted.
"Partnerships in enhancing our collective capabilities will ultimately help us to achieve faster, smoother travel and allow us to continue to expand benefits to increasing numbers of businesspeople," she concluded.
# # #
For more information or to arrange possible interview opportunities, please contact David Hendrickson +65 9137 3886 at [email protected] or Michael Chapnick +65 9647 4847 at [email protected].
Additional details about APEC meetings, events, projects and publications can be found at www.apec.org. You can also follow APEC on Twitter and join us on Facebook.