APEC Ministers Issue Joint Statement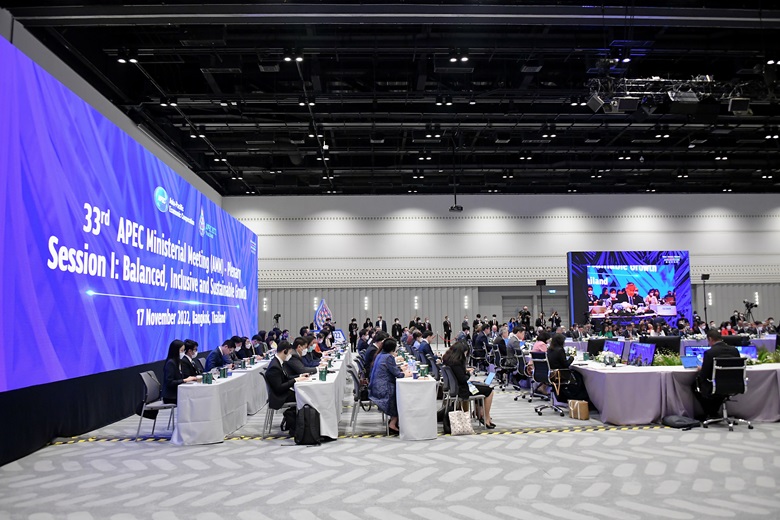 Ministers from the 21 APEC member economies issued a joint statement following the APEC Ministerial Meeting in Bangkok, co-chaired by Thailand's Deputy Prime Minister and Minister of Foreign Affairs Don Pramudwinai and Thailand's Deputy Prime Minister and Minister of Commerce Jurin Laksanawit.
Read the 2022 APEC Joint Ministerial Statement
APEC's Joint Ministerial Statement describes collaborative actions to be implemented by member economies over the next year to advance APEC's agenda in promoting trade and investment that is open to all opportunities, reconnects economies in all dimensions, and drives the region towards balanced, inclusive and sustainable growth through approaches such as the bio-circular-green (BCG) economy.
Ministers, through the joint statement, welcomed the Bangkok Goals on the BCG Economy, to be submitted for the endorsement of APEC Leaders.
Ministers reiterated their determination to deliver a free, open, fair, non-discriminatory, transparent, inclusive and predictable trade and investment environment, as well as continue their efforts to keep supply chains functioning, secure and resilient.
Ministers welcomed the Free-Trade Area of the Asia-Pacific (FTAAP) Agenda Work Plan, responding to leaders' commitments to take forward work on this agenda.
Ministers thanked Thailand for hosting APEC in 2022 and welcomed the United States and Peru as the hosts of APEC in 2023 and 2024.
For further details, please contact:

Masyitha Baziad +65 9751 2146 at [email protected]
Michael Chapnick +65 9647 4847 at [email protected]