APEC strengthens regional cooperation on disaster preparedness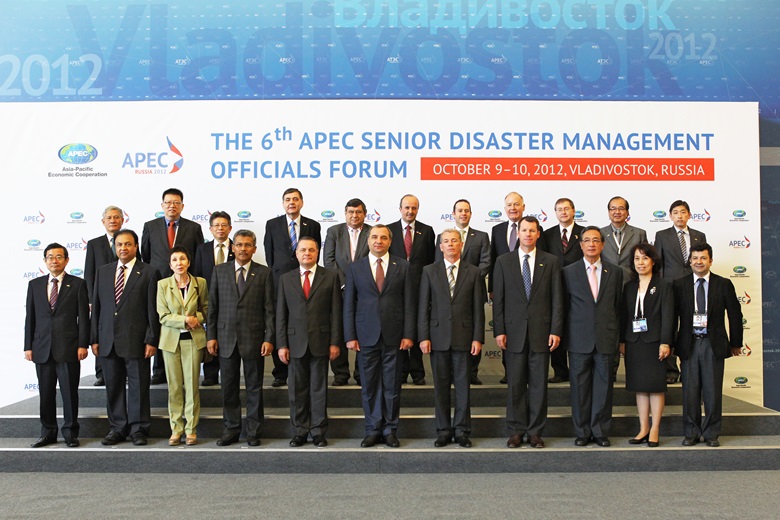 APEC economies are strengthening regional cooperation to enable the region's citizens and businesses better prepare for disasters.
Chairing the 6th APEC Senior Disaster Management Officials Forum, Vladimir Puchkov, Russia's Minister of Civil Defence, Emergencies and Elimination of Consequences of Natural Disasters, emphasized the need to expand regional cooperation to increase emergency preparedness in the Asia-Pacific.
"The security and safety of our people are necessary prerequisites for the development of our economies," said Mr. Puchkov. "Through the active exchange of ideas at this forum, we will be able take concrete steps towards enhancing human security and reducing the threat of disruptions to business and trade."
At the forum, senior-level government officials from APEC emergency services departments exchanged knowledge on integrating state-of-the-art technologies with disaster management systems, such as monitoring and forecasting. They also shared lessons learned from recent large-scale disasters, including the 2011 earthquakes in New Zealand and Japan.
"Such major catastrophes in the region are critical reminders of the importance of APEC's emergency preparedness work," said Dr. Li Wei-Sen, Co-Chair of the APEC Emergency Preparedness Working Group.
Speaking to the delegation, Dr. Li emphasized the need for greater cooperation and information sharing among APEC economies. "Learning from disasters is a very important component in emergency preparedness," he added.
"We learn from Japan the essentials of public awareness and we learn from New Zealand the importance of involving the private sector – from these case studies we can very quickly acquire the needed knowledge and implement life-saving actions."
The Asia-Pacific region comprises 52 percent of the earth's surface area and 40 percent of the world's population, and experiences over 70 percent of the world's natural disasters. Disturbingly, scientists warn that the intensity and frequency of disasters in the region will increase in the decades ahead.
"Climate change and disasters continually threaten the lives and livelihoods of millions of people in the region," said Nguyen Huu Phuc, Co-Chair of the APEC Emergency Preparedness Working Group. "These unfortunate events deeply affect our communities and undermine our efforts towards economic recovery and development."
"From the robust discussions we had at this forum, we are fostering closer cooperation and building the capacity of our member economies," he added.
Since 2005, APEC has played a role in enabling the region to better prepare for, respond to and recover from threats and devastation caused by natural disasters. By sharing expertise and collaborating on emergency preparedness issues, APEC members strengthen capacity to mitigate emergencies and disasters.
# # #
For more information, please contact Augustine Kwan +65 9831 0717 at [email protected] or David Hendrickson +65 9371 8901 at [email protected]
More details about APEC's 2012 priorities and initiatives for the year can be found on www.apec.org or www.apec2012.ru.
Additional details about APEC meetings, events, projects and publications can be found at www.apec.org. You can also follow APEC on Twitter and join us on Facebook.