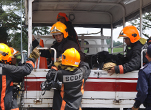 APEC partners with Singapore on disaster management
Singapore, 01 April 2011
APEC is partnering with Singapore's Civil Defence Force as part of ongoing efforts to increase emergency preparedness in the Asia-Pacific region, which experiences over 70 percent of the world's natural disasters.
Officials and experts from seven APEC economies are taking part in a two-week international disaster management course which started on Monday at the Civil Defence Academy in Singapore.
The course is designed to provide participants with an overview of Singapore's approach towards disaster management, including the whole of government response. Medical response systems during emergencies, mass casualty management, risk reduction legislation for fire safety and hazard materials, police operations, information and media management during crises and public-private partnerships in emergency preparedness are some of the topics that will be covered.
The course will also review the UN disaster management systems and study the earthquake that struck New Zealand this year and Cyclone Nargis that hit Southeast Asia in 2008.
Colonel Christopher Tan, director of the Civil Defence Academy, said the course aims to develop a deeper understanding of the principles and approaches to risk, crises and disaster management.
A key component is the sharing of best practices between officials from participating economies in the areas of risk reduction and management and the application of exercise methodology and technologies to improve disaster management.
"The recent earthquake in Christchurch, New Zealand and the major earthquake and tsunami in Japan have exposed the vulnerability of communities and nations to such disasters," Colonel Tan told participants at the opening of the course.
"The catastrophes also serve as a grim reminder of the need to continuously build our capacity to respond appropriately to mitigate such disaster.
"This is our first partnership with APEC and we hope it will be a long lasting relationship. The course is planned to be a useful platform for experiential sharing among participating economies, and to develop an inclusive communication network amongst APEC economies," he said.
APEC plays a role in enabling the region to better prepare for, respond to and recover from threats and devastation caused by natural disasters, pandemics and terrorism, including through the work of the APEC Emergency Preparedness Working Group. By sharing expertise and collaborating on emergency preparedness issues, APEC members strengthen capacity to mitigate emergencies and disasters.
# # #
For more information, contact: Trudy Harris + 65 6891 9671 or + 65 98983710 at [email protected] or Augustine Kwan +65 6891 9674 at [email protected]