APEC Business Travel Card Extends its Reach
Canberra, Australia, 25 January 2007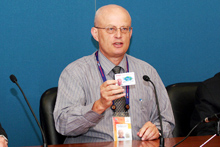 The Chair of the BMG, Mr. Vincent McMahon, said that the four non-participating APEC members - Canada, Mexico, Russia and the United States - had all indicated at the meeting that they were exploring options to participate in the scheme.
"Full participation of all member economies in the scheme, which was initiated by Australia in 1996, has always been the target," Mr. McMahon said. "It is now within reach."
Mr. McMahon said that the United States is recognising the card at its border, Mexico's intention is to give card holders "priority processing" at its borders shortly. Both Canada and Russia are exploring the implications of membership.
"The prospect of having all Member Economies on board is an exciting development for the APEC Business Travel Card," he said. "We still have a way to go yet but I think that we can get there."
The APEC Business Travel Card is available to senior business people who, in one application process, are granted three year multiple entry visas to participating economies. More than 17,000 cards had been issued, which potentially translates into 1 million visas.
Mr. McMahon said the BMG also made significant progress in establishing a Regional Movement Alert System for detecting lost or stolen passports which is designed to increase the safety of international travel. Three APEC economies currently operate in the scheme and Mr. McMahon said they were talking with other economies to adopt the system and extend its functionality.
"As was noted in the 9/11 Commission report, travel documents are as important to terrorists as weapons," Mr. McMahon said.
"The Regional Movement Alert System has already detected hundreds of invalid passports.
"Ultimately better systems of facilitating regional travel such as the Regional Movement Alert System also means safer travel," he said.