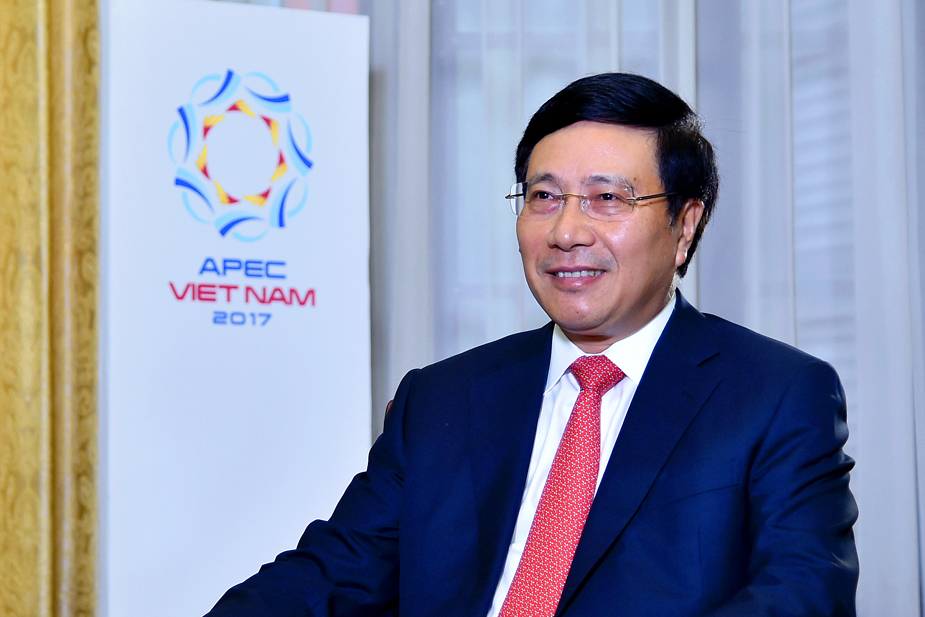 "We are meeting at a time when global and regional landscapes are undergoing complex and rapid transformation."
Deputy Prime Minister and Foreign Affairs Minister Pham Binh Minh has been a prime mover of Viet Nam's chairmanship of APEC in 2017. In an interview with the APEC Bulletin, he discussed the state of relations between APEC member economies in the fast-changing trading environment, efforts to address globalization challenges and his expectations for the APEC Economic Leaders' Week in Da Nang on 6-11 November.
Deputy Prime Minister Minh will Co-Chair the APEC Ministerial Meeting on 8 November as part of the proceedings, together with Viet Nam Industry and Trade Minister Tran Tuan Anh.
Video: Deputy Prime Minister Minh on APEC's Timely Globalization Value Add
See Related: Minister Tran on the Future of Trade and APEC
APEC Bulletin: The year began with a lot of questions about globalization and trade, and the direction of regional cooperation on these issues. To what extent can the deliberations in APEC in Da Nang provide greater clarity?
Deputy Prime Minister Minh: We are meeting at a time when global and regional landscapes are undergoing complex and rapid transformation. It is true that there are many downside risks and uncertainties in the regional and global economies. However, we are encouraged to see stronger economic prospects and trade continues to be a key driver of regional and global growth and a main employment generator. The Asia-Pacific remains a bright spot, with higher growth rates than global levels.
Against such a backdrop, the question for APEC is to help maintain the momentum of growth by furthering Asia-Pacific economic integration and accelerating efforts to achieve the Bogor Goals of open and free trade and investment by 2020. This is also critical to enhancing APEC's role as a driver for regional growth and connectivity.
Despite APEC's different levels of development and domestic circumstances, the outcomes of the APEC meetings this year have been positive, reflecting a common desire for growth and prosperity. Linkages and connectivity have kept expanding the region. APEC economies are currently taking part in nearly 200 regional trade agreements and free trade agreements. APEC realizes the importance of redoubling efforts on capacity building and regulatory coherence to ensure free trade agreements benefit all segments of populations and business, big or small.
APEC Bulletin: What do you see as the next steps for addressing concerns about trade and economic fairness, and the effects of greater market competition and automation?
Deputy Prime Minister Minh: APEC economies agree that growth cannot be sustainable unless it is inclusive. We have discussed and reached a number of measures addressing concerns about trade fairness and market competition. First, we agreed on the need to develop an APEC Action Agenda on Economic, Financial and Social Inclusion to deliver prosperity to all communities and people.
Second, APEC economies endorsed this May the Framework on Human Resources Development in the Digital Age with the aim to assist APEC labor forces to seize the opportunities and cope with challenges. This framework also helps to realize the UN 2030 Sustainable Development Goals.
Third, to reassert micro, small and medium enterprises' role as a driving force of each APEC economy, we adopted many initiatives and policy actions to strengthen their competitiveness, innovation and entrepreneurship. As you know, these enterprises account for 97 per cent of APEC businesses and create 60 per cent of employment in the region.
Last but not least, you will share the view that better communications on the benefits of trade is needed to gain wider support from the people and businesses.
APEC Bulletin: What specific outcomes would Viet Nam like to see—both within APEC and on the sidelines—in terms of promoting trade and growth?
Deputy Prime Minister Minh: Our key message across all APEC 2017 activities is that member economies are determined and committed to taking action and delivering tangible results in terms of more open trade and investment; more inclusive, sustainable and innovative growth that benefits our people and businesses. Under the theme: "Creating New Dynamism, Fostering a Shared Future," we expect that our meeting will generate further momentum for APEC's economic growth and integration, and consolidate regional and global economic recovery.
To generate freer flows of trade, investment and labor, APEC cooperation this year has been focused on quality growth, ease of doing business, comprehensive and inclusive connectivity, e-commerce, women's economic empowerment and public-private partnerships. We have been developing a flexible multi-dimensional and innovative approach to unleash APEC's growth potential. In 2030, the region's share of global GDP is to rise to nearly 70 per cent and two-thirds of the world's middle class will be citizens of our region.
There is wide support that it is time to reflect on APEC's post-2020 vision. This vision should help reassert APEC's leadership in global economic governance and addressing common challenges. To that end, members should build on APEC's spirit of voluntarism, consensus, non-binding mutual benefits and mutual respect. Entering its fourth decade of development, APEC should prove its adaptability and responsiveness, and foster coordination with other regional and international cooperation mechanisms.
APEC Bulletin: How optimistic are you about achieving these goals and building on them in today's fast changing and challenging environment?
Deputy Prime Minister Minh: I am really optimistic. APEC has a good track record in dealing with past regional and global economic crises over the past 30 years and this forum has proven its resilience and vitality in all circumstances. The forum continues today to make great contribution to affirming the Asia Pacific's role as a driver for growth and global economic integration.
The need for enhancing cooperation and economic linkages among APEC members grows stronger than ever. I am confident that the 2017 APEC Economic Leaders' Week will bring concrete deliverables to realize a peaceful, stable, dynamic, interconnected and prosperous Asia-Pacific community.