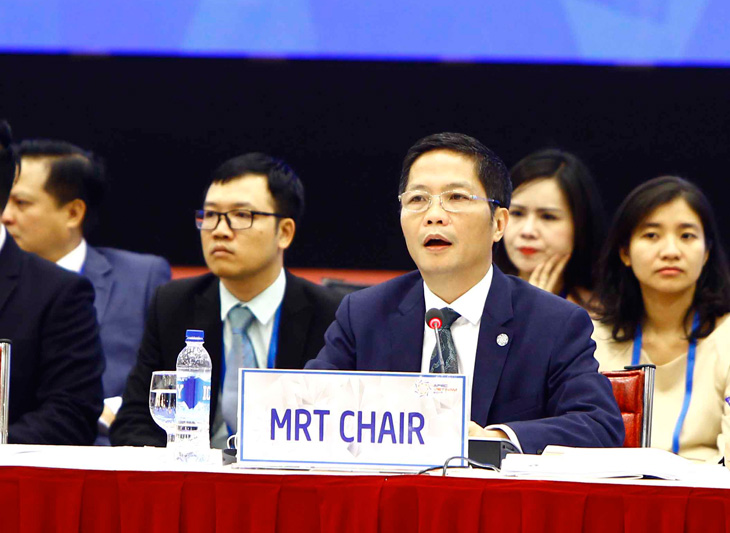 "Only when we are able to balance between the drawbacks and benefits of integration would we be able to enjoy and ensure sustainability, social equality and prosperous growth on a sustainable foundation."
In an interview with the APEC Bulletin, Viet Nam Minister of Trade and Industry Tran Tuan Anh and 2017 Chair of APEC Ministers Responsible for Trade shared his views on the changing trade landscape, challenges to globalization and steps APEC member economies must take to expand the benefits and help those who have been hurt by it.
Minister Tran went on to discuss his expectations for cooperation on regional economic integration and trade in the Asia-Pacific following the APEC Ministers Responsible for Trade Meeting in Ha Noi and beyond.
Video: Minister Tran on Supporting Inclusive Integration and Trade
APEC Bulletin: What is your take on the state of trade in the Asia-Pacific?
Minister Tran Tuan Anh: The Asia-Pacific region, in recent years, has shown its vitality in global trade. Since its creation in 1989, APEC, with 21 member economies, has proven its role as the main driver of regional economic growth.
The average tariff rate in APEC has fallen from 17 per cent to only 5.5 per cent. This is a testament to the great efforts of member economies in facilitating trade and the movement of trade between them as well as with other regions in the world.
The most important point is that a high level of GDP growth has been witnessed around the region. While at the start, the total GDP of the APEC economies was only USD 16 trillion, more recently, in 2016, regional GDP as a whole increased to over USD 20 trillion.
APEC Bulletin: How do everyday people around the region stand to benefit from APEC's push for greater trade-driven growth?
Minister Tran Tuan Anh: Regional growth has fostered improved living standards for people across the Asia-Pacific—raising incomes and helping millions out of poverty in APEC economies. The arrival of new middle class consumers is, in turn, opening up new opportunities for businesses, which supports job creation and prosperity region-wide.
This clearly shows us that globalization and particularly the efforts of APEC member economies in trade facilitation and liberalization contribute greatly, effectively and practically to every individual APEC economy in terms of trade and investment growth as well as to the growth of the global economy as a whole.
The latest forecast of the APEC Policy Support Unit predicts active growth in the region. APEC's economic growth is expected to rise from an average of 3.5 per cent in 2016 to 3.8 per cent this year. In a world of uncertainty, challenges and difficulties, the expected increase in growth could be regarded as positive signal to the region and member economies to continue their efforts.
APEC Bulletin: How are populist challenges to trade agreements and rising protectionism impacting your calculations?
Minister Tran Tuan Anh: In the flow of globalization, we have been witnessing some short-term, localized protectionist trends that have been influenced by populist ideology. From my point of view, despite the fact that these sentiments are localized, it also reflects the desire – perhaps in the short-term – of some parts of the public who might have been less advantaged or left behind during the course of globalization and integration.
Clearly, in making policies in general and economic, trade and investment policies, in particular, policymakers in every economy will have to make decisions in accordance with the global and domestic outlook as well as to meet the needs and willingness of the general public. We have known that globalization has its own drawbacks and there is a clear need for policies that can balance and ensure that every citizen and economy can equally enjoy the benefits of trade.
To ensure the participation of economies in the process of globalization and integration, there is the need for the construction of a sustainable foundation. Therefore, we think that this is a reminder for all economies while joining the flow of global integration. Whether it is regional or global in scope, economies should consider all sides of the story to make sure that all social elements and every citizen can enjoy the sustainability of shared growth and development in the course of integration.
APEC Bulletin: How should policymakers around the Pacific Rim support greater market integration and trade, while helping those who have been left behind or hurt by globalization and trade agreements?
Minister Tran Tuan Anh: Public policies, including trade policies, need to be constructed under a sustainable foundation. They need to ensure that there will be an equal share for the public, businesses and all elements of the society. We also have to always be aware of the drawbacks of globalization and trade integration to be prepared and ready for future global and regional integration and to ensure that we would be able to enjoy a sustainable, harmonious and effective environment under the responsibility and commitment surrounded by the framework of globalization and trade drivers.
Like many other countries, Viet Nam has some economic areas, social groups and businesses that can be easily affected by the drawbacks of globalization and the integration process. For that reason, in the process of negotiating and reaching agreements, economies should interact to further understand each other's expectations, potential and particular requirements in order to have possible, effective, transparent and fair integration for every member economy.
From all the valuable lessons we have learned recently, we have to find a way to minimize the effects to the maximum level for all economies that are part of the integration process, especially for the parts of the public and businesses who are more likely to be affected. Only when we are able to balance between the drawbacks and benefits of integration would we be able to enjoy and ensure sustainability, social equality and prosperous growth on a sustainable foundation.
APEC Bulletin: How do you see trade in the region developing coming out of the APEC Ministers Responsible for Trade Meeting and beyond?
Minister Tran Tuan Anh: After 11 years, Viet Nam is proud to once again chair APEC. Clearly, chairing APEC is a highly meaningful event for Viet Nam, a developing economy that is ready and determined to join the force of globalization through various agreements.
We can confidently affirm and be proud of our responsible contribution to the course of trade liberalization regionally and globally through active participations in the integration process. We also hope that through our active participation in integration forces and agreements, we, together with other APEC economies, can contribute to particular achievements.
Looking forward to the greater, meaningful goals of APEC high-level meetings in Viet Nam in 2017 and in the Ministers Responsible for Trade Meeting, Viet Nam wishes Ministers would be able to discuss in a responsible manner, evaluate results in accordance to the framework and agreements coordinating members toward further integration and liberalization within member economies of the APEC region. We will also discuss in detail new initiatives for further integration in APEC.
We should be reminded that APEC is a voluntary forum that is based on non-binding mechanisms. However, this is a fundamental platform for member economies to consult, discuss, share and deepen integration and liberalization. Thus, this meeting will have many newly-developed initiatives for the course of cooperation between APEC economies leading to further integration.