Policy Partnership on Food Security
Food security has become an increasing concern among many APEC economies due to rising food prices and periods of price volatility. APEC economies are faced with challenges related to the supply and demand for food.
On the demand side, economies must feed a global population that will reach an estimated 9.7 billion in 2050. Income growth and urbanization have also resulted in changing food consumption patterns in the Asia-Pacific.
On the supply side, constraints to natural resources will become more stringent in the coming years, adversely impacting crops and aquaculture yields as well as the capacity to expand food production, such as fishing in the wild.
Agricultural land per capita is projected to decline from its 2012 level of 0.22 hectares to 0.18 hectares in use per person in 2050, while the proportion of the population living in urban areas is projected to rise from 50 per cent to 70 per cent. In addition, increased cycles of adverse weather conditions associated with climate change will cause yield declines for some important staple food crops, particularly rice, wheat and fish products.
APEC members recognize that in the absence of any policy intervention, the cost of food could rise substantially due to increasing demand and reduced production.
In response, the APEC Policy Partnership on Food Security (PPFS) was established in 2011 to strengthen public-private cooperation to address food security issues in the region.
At the ministerial level, the ministers of APEC economies responsible for agriculture and food met for the first time in Niigata, Japan, in 2010 and issued the Niigata Declaration on APEC Food Security—the first comprehensive APEC plan for promoting regional food security. Subsequent APEC ministerial meetings on food security were held biennially in Kazan, Russia (2012), Beijing, China (2014), and Piura, Peru (2016), which led to the Kazan Declaration, Beijing Declaration, and Piura Declaration outlining APEC's new plans for tackling food security, respectively.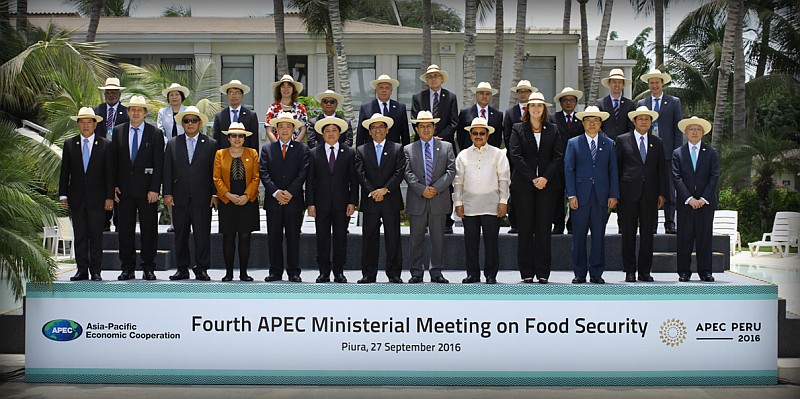 Last page update: April 2018
Current Activities
The latest Policy Partnership on Food Security Meeting (PPFS11) was held on 3-4 March 2018 in Port Moresby, Papua New Guinea.
At the meeting, PPFS members provided updates on their domestic policies to achieve food security and initiatives involving private sector participation relative to "Promoting Food Security in APEC Region" which is one of the key areas under thematic priorities of Papua New Guinea's host year (Priority 2: Promoting Sustainable and Inclusive Growth) that links directly with the work of APEC economies for implementing the APEC Food Security Roadmap Towards 2020. In this context, the thematic clusters of PPFS's work for 2018 focuses on the following areas:
Promoting food security and sustainable agriculture

through use of information communications technology (ICT) in response to climate change

Promoting women in agriculture and fisheries

Sustainable fisheries management and development
Among the notable outcomes of the meeting was an in-principle endorsement of the PPFS 2018 Work Plan and an endorsement of the revised PPFS Terms of Reference.
Papua New Guinea, as the Chair of PPFS 2018, also gave updates on the preparations for this year's APEC Food Security Week (FSW). FSW2018 is scheduled to be hosted during 4-10 August in Port Moresby, under the theme "Enhancing Food Security through Inclusive Sustainable Growth and Climate-Smart Agriculture and Fisheries." In addition to the annual meetings and the joint meeting of the food security-related fora, FSW2018 will also host the Dialogue on Women in Agriculture and Fisheries, the ABAC Symposium on Efficiency in Food Production, and exhibitions of agriculture and fisheries in the APEC region.
PPFS11 culminated with the hosting of the Third Joint PPFS – OFWG (Oceans and Fisheries Working Group) meeting on the afternoon of 4 March 2018, which explored closer cooperation between the two fora, particularly for coordinating work plans and project concept notes. The promotion of public-private partnerships were also highlighted, with strong participation from ABAC Papua New Guinea.
The next PPFS meeting will take place in Port Moresby, Papua New Guinea, during FSW2018 in August 2018.
Activities for 2018:
The PPFS aims to conduct activities and projects to meet the objectives of the 2018 priorities. Possible projects include:
High Level Symposium on Food Losses and Waste Reduction

(cross-collaboration with the

Agricultural Technical Cooperation Working Group

)

(M SCE 02 2013A, Chinese Taipei)

Projects to stock take policies on food security in response to climate change in the APEC region

(Multi-Year Action Plan Core Team)

Projects to further the Strategic Framework on Rural-urban Development to strengthen food security and quality growth

(lead economies)

Research on regulatory environments within APEC economies that have an impact on trade in food services that contribute to food security

during

2018-2019

(New Zealand)
Notable Ongoing PPFS Frameworks
Multi-year Framework on Food Security and Climate Change
The Multi-year Framework seeks to promote a coordinated regional effort for addressing the closely linked challenges of food security, development, and climate change adaptation and mitigation.
Utilizing APEC's existing infrastructure, the program is expected to be a joint effort of multiple APEC working groups, including the Policy Partnership on Food Security, the Agricultural Technical Cooperation Working Group, and the Oceans and Fisheries Working Group to foster cooperation among policy and technical-level experts on the food security – climate change relationship.
APEC food security groups also have the opportunity to partner with and utilize the related expertise of the Policy Partnership on Science, Technology, and Innovation (PPSTI) and the APEC Climate Center. The program also intends to engage and draw upon expertise from the private sector, academia, and other regional and global multilateral organizations.
The objectives of the framework are to:
Enhance the capacities of APEC economies in developing and disseminating approaches to addressing the food security – climate change relationship

Increase knowledge of adaptation, mitigation and sustainably increasing productivity and incomes through targeted capacity building activities

Utilize the current APEC structure to provide APEC economies a means to better share experiences and promotes cooperation in the development of approaches to addressing the food security – climate change relationship, based on identified capacity gaps.
Strategic Framework on Rural – Urban Development to Strengthen Food Security and Quality Growth
The Strategic Framework aims to enhance rural – urban development linkages to advance food security and inclusive growth, which will benefit both rural and urban areas. Developing such linkages will require a comprehensive approach while taking into consideration of a variety of factors such as farming typology, sustainable development, place-based approach, inclusive value chains, and gender and social inclusion.
The objectives of the framework are to:
Improve the farm and off-farm income of farmers and fishers through capacity building, diversifying crops and improving infrastructure, trade facilitation, financing, and better connectivity

Conserve and enhance natural resources and promote their sustainable use by applying policies for their integrated management to areas such as soil, biodiversity, forestry, marine and aquatic resources, and landscapes—particularly in response to climate change and natural disasters

Close the gaps in access to services between rural and urban areas by improving the quality of social infrastructure, rural social capital and fostering the welfare of vulnerable populations, such as the poor, the ageing, women and the youth

Promote urban – rural administrative efficiency through approaches that emphasize inter-institutional management, multisector and multi-level coordination and cross-cutting development policies
Through the APEC Food Safety Cooperation Forum and together with the APEC Sub-Committee on Standards and Conformance, APEC is working to enhance food safety standards and food testing capacities in the region through laboratory training
The long-term goal is the attainment of a regional food system structure by 2020 which will provide APEC member economies with lasting food security, as well as enhance their food supply efficiency and provide more affordable food for lower income consumers.
Together with the APEC Agricultural Technical Cooperation Working Group, APEC is strengthening public-private partnerships to reduce food losses in the supply chain (an initiative led by Chinese Taipei).
Dr Vele PAT LLA'AVA
Chair
Secretary of the Department of Agriculture and Livestock, Papua New Guinea
Mr Brown KONABE
PPFS Coordinator
Director of Food Security, Department of Agriculture and Livestock, Papua New Guinea
bkonabe@gmail.com
Mr Pruthipong POONTHRIGOBOL
Program Director
pp15@apec.org