Summary Report - APEC Workshop on Women's Empowerment through Inclusive and Gender-responsive Climate Policymaking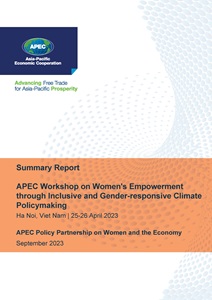 | | |
| --- | --- |
| Published Date | September 2023 |
| Type of Publication | Proceedings |
| Publication Under | SOM Steering Committee on Economic and Technical Cooperation (SCE), Policy Partnership on Women and the Economy (PPWE) |
| Accessed | 200 |
| Pages | 24 |
| Download publication | Download |
Description
The objectives of the Publication are to: (i) Integrate gender into climate policies at both individual and regional levels in a systematic and holistic manner; (ii) Build the capacity of policymakers in designing inclusive and gender-responsive climate-related policies; (iii) Promote women's leadership in climate-related policymaking and negotiating processes.
Considering the opportunities and challenges, insights shared by APEC members and international experts, the project has identified 4 key recommendations:
Strengthen the linkage between gender equality and climate change interventions (policy and programmatic) and broader social, economic, cultural, and political frameworks.
Improve data availability on the gender equality risks and impacts of climate change to enhance inclusive and gender responsive policy development and programming.
Demonstrate political commitment by prioritizing the rights and needs of women and marginalized groups through concrete actions.
Establish a monitoring framework to track progress towards gender equality in climate action.