APEC Regional Trends Analysis, August 2023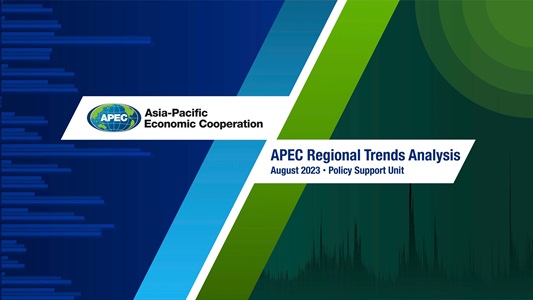 | | |
| --- | --- |
| Published Date | August 2023 |
| Type of Publication | Reports |
| Publication Under | APEC Secretariat, APEC Policy Support Unit |
| Accessed | 293 |
| Pages | 15 |
| Download publication | Download |
Description
APEC Regional Trends Analysis is a serial publication of the Policy Support Unit, which provides an overview of the region's economy through an analysis of recent macroeconomic, trade and investment trends. It tracks recent trade and investment measures implemented around the region and discusses risks and opportunities to the region's economic outlook.

The August 2023 issue expects a moderation in economic growth, accompanied by a contraction in merchandise trade due to lower external demand and changes in supply chain strategies. Whilst monetary authorities are increasing interest rates in their efforts to reduce inflation. Inflation has declined as well, as supply chain costs are falling. However, this inflation decline is fragile as the outlook is uncertain. Trade restrictive measures, fiscal sustainability and geopolitical issues are affecting the economy. In addition, a strong El Niño weather pattern in the next few months may cause big economic shocks.
For more insights, please read the article Fragile Recovery and Intertwined Challenges.