Digital Transformation to Generate New Business Opportunities, Opening to New Markets in the MSMES and Gender Focused Cooperatives, in Response to the Economic Crisis Caused by COVID-19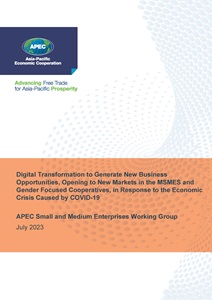 | | |
| --- | --- |
| Published Date | July 2023 |
| Type of Publication | Reports |
| Publication Under | SOM Steering Committee on Economic and Technical Cooperation (SCE), Small and Medium Enterprises Working Group (SMEWG) |
| Accessed | 395 |
| Pages | 108 |
| Download publication | Download |
Description
Digital transformation has become a necessity for global businesses, including MSMEs and cooperatives in APEC economies. The region's digital gap has been a problem, generated by the lack of resources, knowledge, as well as support from external stakeholders, such as governments, private institutions, and big business.
The objective of the project is to reduce the digital divide in MSMEs and Cooperatives, as well as to empower women and youth in the incorporation and implementation of the different digital transformation tools to generate a sustainable economic recovery.
To achieve this, research was carried out based on primary and secondary sources to identify the gaps and barriers that the different economies have encountered in the digital transformation process, as well as to identify their needs in terms of the type of digital tool required according to their sector and economic activity.
The results will serve as input for the design and development of an educational digital platform that will allow the development of skills for a successful digital transformation process.