APEC Regional Trends Analysis, May 2023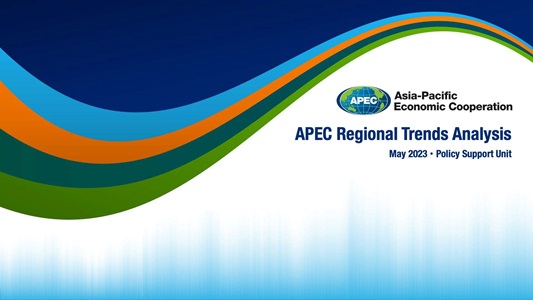 | | |
| --- | --- |
| Published Date | May 2023 |
| Type of Publication | Reports |
| Publication Under | APEC Secretariat, APEC Policy Support Unit |
| Accessed | 1039 |
| Pages | 18 |
| Download publication | Download |
Description
APEC Regional Trends Analysis is a serial publication of the Policy Support Unit, which provides an overview of the region's economy through an analysis of recent macroeconomic, trade and investment trends. It tracks recent trade and investment measures implemented around the region and discusses risks and opportunities to the region's economic outlook.

The May 2023 issue expects APEC GDP growth to be slower and more uneven in the short-term, in tandem with the global economy. Downside risks continue to be significant as APEC and the world grapple with stubborn inflation, high debt, financial sector strains and geoeconomic fragmentation. Decelerating trade and rising inequality, exacerbated by the pandemic, add to the challenges. The role of regional cooperation is more important than ever to encourage inclusive dialogue and concerted efforts to achieve growth and inflation objectives, mitigate growing inequality, and implement structural reforms that promote human capital development and improve product, labor and financial markets.
For more insights, please read the article Uneven Recovery in the APEC Region amid Uncertainty.