APEC Workshop on Energy Intensity Reduction in the APEC Regions' Urbanised Cities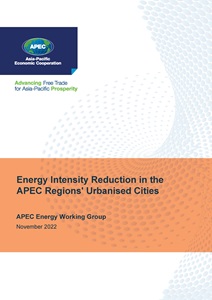 | | |
| --- | --- |
| Published Date | November 2022 |
| Type of Publication | Reports |
| Publication Under | SOM Steering Committee on Economic and Technical Cooperation (SCE), Energy Working Group (EWG) |
| Accessed | 46 |
| Pages | 160 |
| Download publication | Download |
Description
This project was carried out by selecting seven cities among outperformed APEC member economies in terms of energy intensity reduction when comparing the result of the year 2016 to 2005. A workshop was held to intensify collaboration between APEC economies and capacity building on the policy frameworks, good practices and applicable I&T for energy efficiency and conservation (EE&C).

This final study report, appended with the workshop summary, is provided as the documents for summarizing the workshop sharing, study findings of identified key drivers and innovation technologies applicable to building sector in promoting EE&C. The report highlighted the policy recommendations, challenges, barriers and strategies for urbanized cities towards the goal of reducing APEC's aggregate energy intensity by 45 percent from 2005 levels by 2035.

The outcomes of this project will enable the policymakers, particularly developing economies, to have a guidance of urbanizing their city to a low aggregated energy intensity in one sitting.