APEC Workshop on Strategies and Successful Case Studies on Solar Energy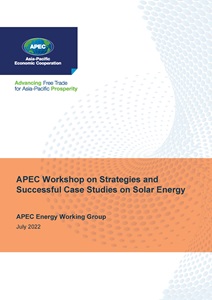 | | |
| --- | --- |
| Published Date | July 2022 |
| Type of Publication | Proceedings |
| Publication Under | SOM Steering Committee on Economic and Technical Cooperation (SCE), Energy Working Group (EWG) |
| Accessed | 392 |
| Pages | 22 |
| Download publication | Download |
Description
In the midst of economic development and growing demand of energy consumption in the region, renewable and clean energy, especially solar energy, has become a very important topic in the Asia-Pacific region, with leaders continuously reaffirming the APEC aspirational goal of doubling the share of renewables in the energy mix from 2010 levels by 2030.
Realizing this opportunity and to facilitate the development of solar energy in APEC member economies, a two-day APEC Workshop on Strategies and Successful Case Studies on Solar Energy was held in Viet Nam, which brought officials, representatives from the private and academic sectors and other stakeholders solar energy to share case studies and strategies in solar energy, learn from experiences to support all member economies of APEC to develop and implement policies on solar energy to provide energy needs in the midst of economic development and increasing consumption, draw more investments and address environmental issues.
This summary report includes proceedings of the dialogue, discussions and recommendations from the workshop.