The Role of Integrated Distribution System Planning in Maximizing Resiliency in the APEC Region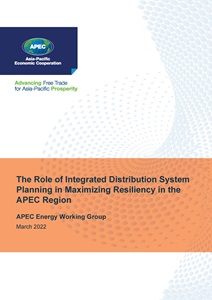 | | |
| --- | --- |
| Published Date | March 2022 |
| Type of Publication | Reports |
| Publication Under | SOM Steering Committee on Economic and Technical Cooperation (SCE), Energy Working Group (EWG) |
| Accessed | 180 |
| Pages | 133 |
| Download publication | Download |
Description
This report shows the critical role the electric distribution system plays in supporting both energy resiliency and the integration of distributed renewable energy resources into the power grid and, thus, furthering APEC's clean energy goals. This report is structured to inform the reader, who may not come from a technical background, what the distribution system planning elements APEC members need to begin considering as they modernize their grids. The six elements highlighted in the study included:
Implementing Integrated Distribution System Planning
Leveraging Distributed Energy Resources for Reliability & Resilience
Planning for Electric Vehicles & Their Potential
Increasing Situational Awareness
Allowing for Microgrids
Establishing Equitable Recovery Strategies
The report demonstrates how cutting-edge distribution system planning techniques and new technologies can enhance reliability, resilience, and DER utilization in the region at a high level.