APEC Stocktake of Carbon Pricing Initiatives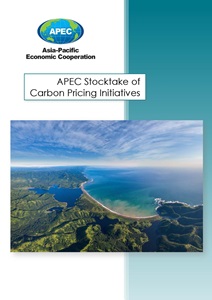 | | |
| --- | --- |
| Published Date | February 2022 |
| Type of Publication | Reports |
| Publication Under | Economic Committee (EC) |
| Accessed | 767 |
| Pages | 48 |
| Download publication | Download |
Description
The summary report accumulates the state of carbon pricing initiatives in the Asia Pacific region. It was prepared as part of a project within the APEC Economic Committee and seeks to compile existing practices of putting a price on greenhouse gas (GHG) emissions in APEC economies.

As the challenge of climate change comes to the center of global attention, economies are seeking ways to reduce GHG emissions while also creating the necessary environment for development. One approach to achieve this is to create direct economic stimuli for agents to reduce GHG emissions by incorporating the long-term toll on the environment into the cost of economic activity. APEC economies are already using such instruments and are likely to continue to do so in the foreseeable future.

At the same time, the application of carbon pricing instruments all over the world creates a patchwork of regulatory environments, where businesses not only face varying compliance conditions, but also bear different costs for producing the same goods and services. This creates risks for international trade and investment and complications for doing business across the globe and in particular regions.

The aim of the report is to provide a background for further discussion in APEC and other stakeholders, including international fora in the Asia Pacific, of what regulators are doing to economically stimulate GHG emissions reductions and explore opportunities for cooperation to reduce emissions.