The APEC Women and The Economy Dashboard 2017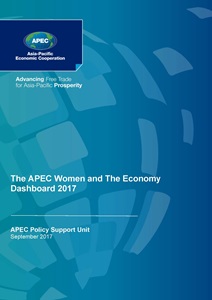 | | |
| --- | --- |
| Published Date | September 2017 |
| Type of Publication | Reports |
| Publication Under | APEC Secretariat, APEC Policy Support Unit |
| Accessed | 23379 |
| Pages | 149 |
| Download publication | Download |
Description
The APEC Women and the Economy Dashboard is an initiative that seeks to provide a snapshot of the status of women in APEC, by looking at a set of indicators in recent years, which allows measurement of the progress of women's participation in economic-related activities and women's inclusion in several aspects of life. The Dashboard is comprised of almost 80 indicators, classified in five areas previously identified as priorities by the APEC Policy Partnership of Women and the Economy (PPWE): 1) access to capital and assets; 2) access to markets; 3) skills, capacity-building and health; 4) leadership, voice and agency; and 5) innovation and technology .

The indicators were selected and endorsed by consensus in 2014 following an extensive study and consultations with data experts and economy representatives at PPWE. The goal was to identify credible, up-to-date metrics aligning with the PPWE priorities, so policymakers can have a clear picture of gaps and opportunities. The Dashboard is also intended to support gender integration across APEC. The indicators are cross-cutting across sectors in order for the Dashboard to be used as a tool by APEC's technical working groups in integrating gender perspectives into their work. The indicators are drawn from a range of international data sources, including the United Nations, the World Bank, the International Labor Organization, the World Economic Forum, the Organisation for Economic Co-operation and Development, and the World Health Organization, among others.

This report contains 22 dashboards, one for each of the 21 APEC member economies and another for the APEC region as a whole.