Strengthening Tourism Business Resilience against the Impact of Terrorist Attack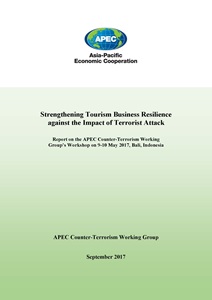 | | |
| --- | --- |
| Published Date | September 2017 |
| Type of Publication | Proceedings |
| Publication Under | SOM Steering Committee on Economic and Technical Cooperation (SCE), Counter-Terrorism Working Group (CTWG) |
| Accessed | 12663 |
| Pages | 94 |
| Download publication | Download |
Description
This report summarizes the discussion, outcomes and recommendations arising from a two-day workshop on Strengthening Tourism Business Resilience against the Impact of Terrorist Attack held on 9-10 May in Bali, Indonesia.

The workshop aimed to:
a. To study the level of resilience toward terrorist attack among economies in APEC
b. To strengthen international cooperation amongst APEC members to provide reliable and rapid information sharing at the time of terrorist attack;
c. To establish standard of crisis management strategies in order to stabilize economies in the aftermath of a terrorist attack and to give guidance on how to recover and recuperate losses;
d. To allow the exchange of information in relation to the movement of suspected terrorists, dangerous materials and capital that can be used in financing terrorist and terrorist attack.

Invited speakers were engaged to share their expertise and experiences, as well as best practices in building resilience tourism industry against terrorist attack to participants representing various government agencies and private sectors from the APEC region.