APEC Regional Trends Analysis (Rethinking Skills Development in the Digital Age)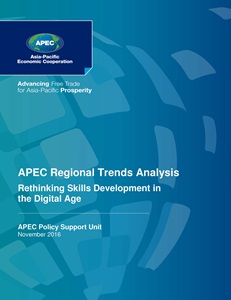 | | |
| --- | --- |
| Published Date | November 2016 |
| Type of Publication | Reports |
| Publication Under | APEC Secretariat, APEC Policy Support Unit |
| Accessed | 14669 |
| Pages | 34 |
| Download publication | Download |
Description
This issue of APEC Regional Trends Analysis features two chapters: (1) Rethinking Skills Development in the Digital Age; and (2) Continued Growth amid Persistent Global Weakness. Key messages are:

Rethinking Skills Development in the Digital Age
• Digital technology has benefited households and firms that utilise them. Preliminary data analysis shows a statistically significant and positive correlation between digital technology use and GDP growth. On the other hand, the analyses with regard to employment show no clear relationship.
• The advent of the digital age requires a rethinking of education and training, labour policy, and even social security.
• Digital technology and its disruptions make regional cooperation essential; in coordinating policies and regulations as well as information sharing and capacity building.
Continued Growth amid Persistent Global Weakness
• The APEC region continued to grow during Q2 2016 at 2.4%, attributed largely to steady private and public consumption amid low trade growth.
• The region's values of merchandise exports and imports contracted by 6.4% and 6.6%, respectively, during the period January-August 2016 compared to the year-ago level.
• Investor optimism in the APEC region as a whole is relatively strong as shown by the continued inflow of FDI; the region attracted around 54.1% of the world's FDI.
• FDI entry into the APEC region continued to be boosted by an increasing number of investment-friendly measures. In contrast, trade-restrictive measures have increased while trade-facilitating measures have declined.
• Economic activity in the near-term is expected to be uneven among APEC economies, hinging on a mix of global weakness and domestic conditions. Downside risks are anticipated to dominate upside opportunities for near-term growth.
• As global headwinds persist, APEC economies need to fortify their resilience in order to continue to grow amid adverse external developments. An appropriate policy mix that addresses short-term growth requirements and medium-term prospects remains the key toward a higher and more sustainable growth trajectory.