APEC Economic Trends Analysis, November 2015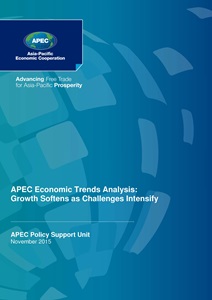 | | |
| --- | --- |
| Published Date | November 2015 |
| Type of Publication | Reports |
| Publication Under | APEC Secretariat, APEC Policy Support Unit |
| Accessed | 12847 |
| Pages | 18 |
| Download publication | Download |
Description
November 2015 Issue: Growth Softens as Challenges Intensify

The PSU's APEC Economic Trends Analysis provides an overview on emerging trends underlying the region's economic prospects by providing in-depth analysis on recent macroeconomic and financial developments in the APEC region. The key messages from this issue are:

• Growth is expected to soften in 2015 and recover in 2016.
• Growth prospects during the period 2015-2016 will be determined by three major factors: i) persistence of the downward trend of oil and non-oil commodity prices; ii) strength of China's economy and stability of its markets; and iii) normalization of US monetary policy and its attendant risks.
• Softening of growth prospects as challenges intensify require a concerted response. In 2015 and beyond, as economies rebalance economic growth towards strengthening domestic demand, they will need to consider implementing an appropriate mix of monetary and fiscal policies together with structural reforms to raise productivity and strengthen private consumption.