APEC Economic Trends Analysis, May 2015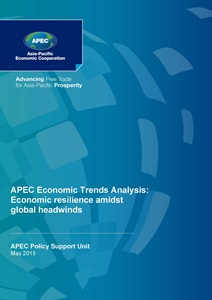 | | |
| --- | --- |
| Published Date | May 2015 |
| Type of Publication | Reports |
| Publication Under | APEC Secretariat, APEC Policy Support Unit |
| Accessed | 16719 |
| Pages | 16 |
| Download publication | Download |
Description
May 2015 Issue: Economic resilience amidst global headwinds

The PSU's APEC Economic Trends Analysis provides an overview on emerging trends underlying the region's economic prospects by providing in-depth analysis on recent macroeconomic and financial developments in the APEC region. The key messages from this issue are:
• APEC economies proved resilient in 2014 amid challenging external conditions.
• Near-term outlook points to higher GDP growth for the APEC region, even as the varying impact of falling oil prices on oil importers and oil exporters is expected to result in diverging growth paths for APEC economies.
• Sound macroeconomic fundamentals afford APEC economies the opportunity to address policy challenges that could boost medium-term growth prospects.