Regulatory Reform: Case Studies on Green Investments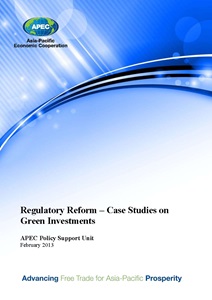 | | |
| --- | --- |
| Published Date | March 2013 |
| Type of Publication | Reports |
| Publication Under | APEC Secretariat, APEC Policy Support Unit |
| Accessed | 15017 |
| Pages | 246 |
| Download publication | Download |
Description
The report includes 12 case studies on the implementation of regulatory policies of selected APEC economies in order to draw lessons on regulatory reform, by analysing different experiences in formulating and implementing policies to improve energy efficiency and promote renewable energy technologies in particular sectors.

The case studies in energy efficiency focus on the following sectors: buildings, transportation and household appliances; whereas the case studies in renewable energy are related to conventional biofuels, geothermal and solar PV energy. The structure of the case studies in this report is similar. They describe the size and significance of the sector in the selected APEC economy and identify a series of policies implemented by governments to promote investments in the selected sectors and meet policy targets of energy security and environmental sustainability, which are the most common objectives that regulatory reforms seek to accomplish in these sectors.

Each case study assessed whether the process to carry out these policies followed certain criteria (good regulatory practices) to facilitate the successful implementation of reforms, such as cost-benefit analysis, scientific integrity, flexibility, transparency and alignment among authorities. The findings in the study may be useful for policymakers, as it highlights which regulatory aspects should be taken into account when formulating and carrying out policies to meet domestic objectives and promote green investments in energy efficiency and renewable energy.