Handbook for "The APEC Voluntary Reviews of Institutional Frameworks and Processes for Structural Reform," October 2009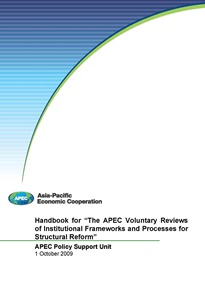 | | |
| --- | --- |
| Published Date | December 2009 |
| Type of Publication | Manuals |
| Publication Under | APEC Secretariat, APEC Policy Support Unit |
| Accessed | 78342 |
| Pages | 33 |
| Download publication | Download |
Description
To facilitate the conduct of voluntary reviews of institutional frameworks and processes for structural reform, the APEC Policy Support Unit has prepared this guidance manual that sets out in a single document the objectives, scope and desired outcomes of the reviews. It is intended to assist reviewers, volunteering economies and their respective agencies and other interested stakeholders to prepare for and participate in the reviews.
The overall purpose of the review is to examine the extent to which these key features are present in the institutions and processes for structural reform of the reviewed economy. This review complements the APEC-OECD Integrated Checklist on Regulatory Reform. Consistent with the Joint Ministerial Statement in 2007, the objective of the review is to assist APEC economies to build and maintain effective institutions and processes to support structural reform efforts.
This work is available for further use under creative commons licensing.

1. BASIS OF THE REVIEW
2. OBJECTIVE
3. SCOPE
4. THE ACTORS
ANNEX 1. FEATURES OF EFFECTIVE INSTITUTIONS THAT SUPPORT STRUCTURAL REFORM
ANNEX 2. POLICY AND REGULATORY REVIEWS IN APEC
ANNEX 3. SAMPLE NOTIFICATION BY AN ECONOMY TO VOLUNTEER FOR THE REVIEW
ANNEX 4. QUESTIONNAIRE FOR SELF-REVIEW
ANNEX 5. TENTATIVE OUTLINE FOR THE REPORT