Secretary Yellen: APEC is at the Center of the Global Economy, Actions We Take Matter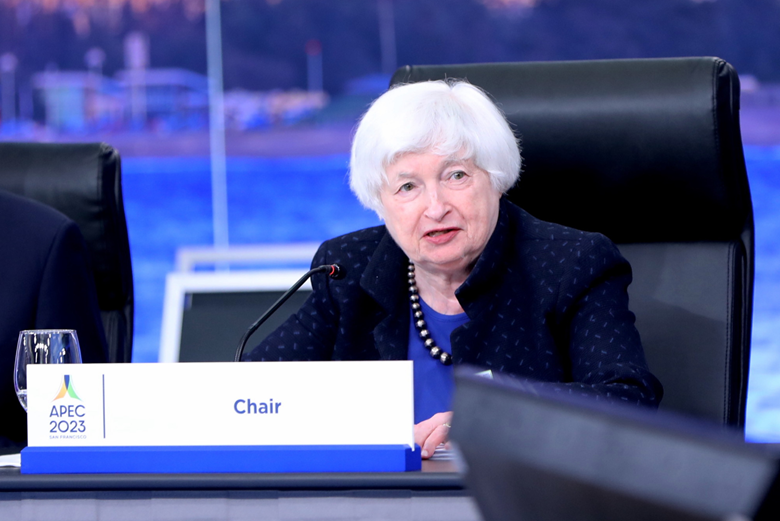 "As we work collectively and individually to advance our vision, finance and fiscal policies are among the most powerful tools we have," said the United States Secretary of the Treasury Janet Yellen as she set the context for engagement at the 2023 APEC Finance Ministers' Meeting in San Francisco on Monday.
Finance ministers from the 21 member economies are convening as part of the APEC Economic Leaders' Week, the first time in the forum's history that this meeting takes place ahead of the leaders' meeting.
Focus for this meeting is to take stock of the current global and regional economic and financial outlook, while refocusing efforts on strengthening financial resilience and advancing fiscal reforms to build economies in the long run.
"The Asia-Pacific region is at the center of the global economy," Secretary Yellen said. "APEC members represent some of the fastest growing and most dynamic economies in the world, driving both growth and innovation."
"So, the actions we take matter, not only for our own economies and people, but also for addressing the global challenges the world faces," Secretary Yellen continued.
In her address to her counterparts, Secretary Yellen highlighted the importance of advancing modern supply-side economics, or advancing policies that expand the productive capacity of economies at the same time improving resilience and addressing inequality.
Examples including policies to increase the quality and quantity of the labor supply; strengthen public infrastructure; and invest in research and development and environmental sustainability.
Sustainable finance is another focus area of the deliberations for ministers, including discussions on how to mobilize resources to accelerate the just energy transition and achieve member economies' respective net-zero emissions goals.
"We have discussed how to finance efficient and effective energy transitions while supporting individuals and communities who are most vulnerable," said Secretary Yellen, underlining the recent Indonesia and Viet Nam Just Energy Transition Partnerships as two powerful examples of these efforts.
Secretary Yellen also highlighted the US Treasury's "Principles for Net-Zero Financing and Investment," launched in September, to encourage financial institutions that make them to take consistent approaches to implementation.
Finance ministers' engagement this year is driven by the longer-term priority established by the APEC Finance Ministers in the 2015 Cebu Action Plan. Although these priority areas are oriented toward the long term, Secretary Yellen stressed that it does not make addressing them any less urgent.
"We need to further improve our long-term economic outlook by boosting labor supply, innovation, and infrastructure investment, in ways that are also sustainable and reduce inequality," Secretary Yellen said.
She urged her counterparts to put themselves on a sustainable growth path, one where we safeguard our planet while providing our economies with the clean energy they need to grow. "And we need to leverage emerging technologies to drive innovation while maintaining safe financial markets."
"It's a key opportunity to recognize our accomplishments and reaffirm our commitment to more progress," Secretary Yellen concluded. "Our efforts are essential to the strength of our economies, the prosperity of our peoples, and the future of the global economy."
For further details, please contact:
Masyitha Baziad +65 9751 2146 at [email protected]
Michael Chapnick +65 9647 4847 at [email protected]