Officials in San Francisco Advancing APEC's Cooperation Toward Recovery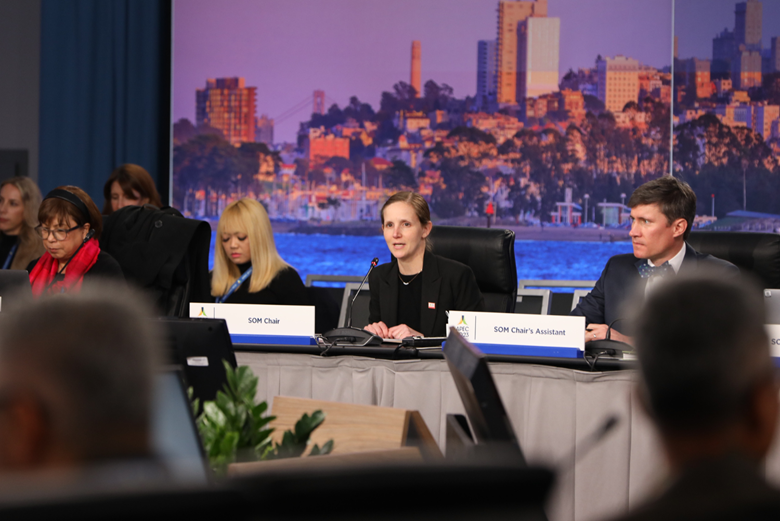 Long recognized as the gateway to the Asia-Pacific, senior officials kickstarted APEC Economic Leaders' Week with a series of meetings and activities in San Francisco, making inroads for a more innovative, sustainable and inclusive trade and investment in the region.
The Concluding Senior Officials' Meeting is underway, bringing together all of the economic policies and initiatives driven by the United States' overarching theme of "Creating a Resilient and Sustainable Future for All."
Addressing APEC senior officials on Saturday, Nora Todd, 2023 APEC Alternate Chair of the Senior Officials' Meeting, highlighted that policy discussions and new initiatives achieved this year is setting the scene for economic leaders who will arrive in San Francisco in the coming days.
"At each step of the way we found common ground and consensus on key policy priorities that are moving our economies forward," Todd said, highlighting policy deliverables such as the Detroit Principles and Recommendations for Equality and Inclusion and the Non-Binding Just Energy Transition Principles for APEC Cooperation.
"Our subject matter experts and ministers have worked together to demonstrate APEC's importance across sectors and across the region," she added.
Todd observed that hosting APEC is an opportunity not only to showcase America to the 20 visiting economies of APEC, but also to showcase APEC to America.
Setting connectivity as one of the priorities of APEC 2023, San Francisco's iconic bridge represents the importance of business and people-to-people connectivity among APEC member economies.
"More than USD 100 billion in two-way shipping transactions flow between the port of San Francisco and APEC economies each year and much of it crosses the Golden Gate Bridge," Todd said.
"The Golden Gate Bridge which image adorns our Leaders' Week logo embodies the connection between APEC economies and the resilience of our region, and that's why the Golden Gate is the namesake of our leaders declaration this year," she stated.
Todd recalled that San Francisco hosted the first APEC Women and the Economy Forum (WEF) in 2011. The WEF, now an established fixture on the annual APEC calendar, encourages economies to take concrete actions in removing barriers and maximizing women's full economic participation.
"San Francisco's proximity to cutting-edge companies based in Silicon Valley also makes the city an ideal partner to advance APEC's focus on trade and investment, innovation and digitization, as well as sustainability and inclusion," said Todd.
Practical work on this front includes accelerating efforts to implement the APEC Internet and Digital Economy Roadmap and looking at practical ways to enhance the inclusiveness of the region's internet and digital economy.
"We are here in San Francisco to bring it all together and to show what APEC is all about; to demonstrate to the City of San Francisco, to the State of California, to the United States and to the world how, through the cooperation and collaboration between us all, we are able to deliver real results."
Todd also shared that President Joe Biden, the Chair of the 2023 APEC Economic Leaders' Meeting, is looking forward to engaging with all the economic leaders to illustrate how APEC's policy priorities are paying real dividends for workers, families and businesses across the region.
"He is looking forward to showcasing our cooperation and collaboration within APEC that includes all that we have committed to achieve throughout our host year to make our economies more resilient, sustainable and inclusive," Todd concluded.
For further details, please contact:
Masyitha Baziad +65 9751 2146 at [email protected]
Michael Chapnick +65 9647 4847 at [email protected]