New Zealand Contributes NZD5.6 million to Boost Structural Reform and Green Growth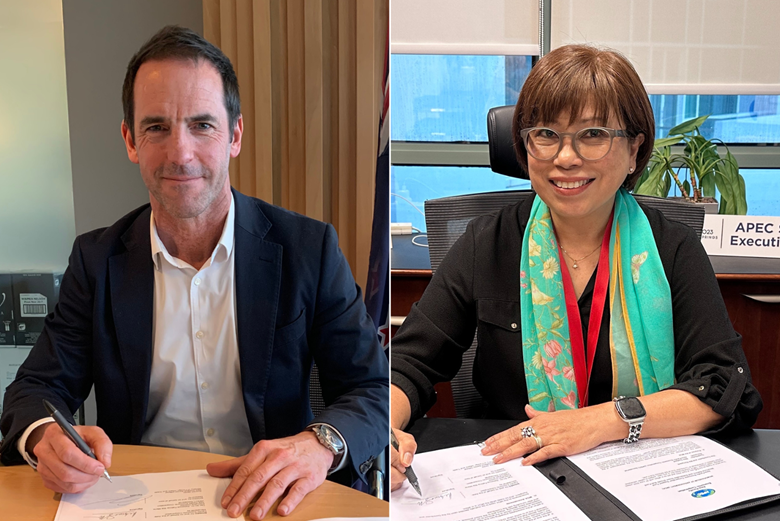 New Zealand is contributing NZD5.65 million to boost support for APEC projects to strengthen members' capacity to implement structural reform and sustainability initiatives, especially for developing economies.
The contribution will be made across three years, until 2025 and establishes a new project funding source through the Structural Reform for Sustainable Green Growth Sub-Fund (the Sub-Fund) that will be administered by the APEC Secretariat's Project Management Unit.
During the APEC Economic Leaders' Meeting last November in Bangkok, New Zealand's Prime Minister announced this new fund in a bid to build greater climate resilience and to promote sustainable economic recovery for the region.
A memorandum of agreement was signed virtually by the APEC Secretariat Executive Director Dr Rebecca Sta Maria and Andrew Jenks, New Zealand's APEC Senior Official. The fund will be available from June 2023.
"The impact of climate change is felt across all social and economic sectors," said Jenks. "The only way we can address this is by working together throughout the region to undertake necessary reforms in our respective economies, develop regulations that will promote environmentally friendly investment and behaviours, as well as reduce emissions and improve adaptation."
The fund will be allocated to capacity-building projects that encourage the development and implementation of structural reforms promoting sustainable growth and climate-related objectives as described in the APEC Putrajaya Vision, the Aotearoa Plan of Action and the Enhanced APEC Agenda on Structural Reform.
It also builds on previous work that promotes green growth and supports economies to consider the structural reform recommendations cited in the 2022 APEC Economic Policy Report on Structural reform and a green recovery from economic shocks.
Studies show that without policy action to address climate change, the Asia-Pacific region can see substantial losses. Between 1989 and 2021, disaster-related losses in the APEC region amounted to an average of USD 111 billion annually, according to the 2022 APEC Economic Policy Report published in 2022.
"APEC is a unique forum because we achieve our objectives through dialogue, capacity building activities and decisions made on a consensus basis, giving equal weight to the views of all members," said Dr Sta Maria.
"The fund will help build members' capacity to strengthen and develop their knowledge, abilities and technical know-how to improve policies and regulations related to addressing the climate crisis," she added.
Projects are a vital part of the APEC process. They help translate the policy directions of APEC Economic Leaders and Ministers into actions and help create tangible benefits for people living in the Asia-Pacific region. APEC provides funding for over 100 projects each year, with around USD24.4 million available in 2023.
For further details, please contact:
Masyitha Baziad +65 9751 2146 at [email protected]
Michael Chapnick +65 9647 4847 at [email protected]