Ministers, Officials in Detroit to Advance Interconnectedness, Innovation and Inclusiveness of Trade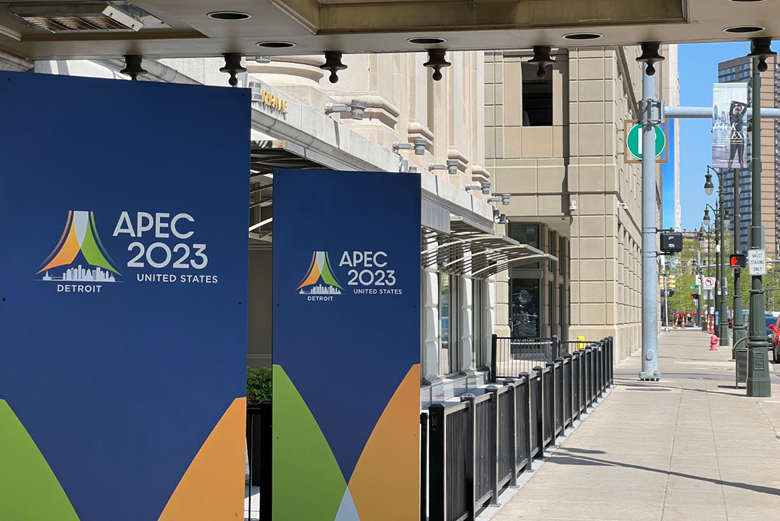 Trade Ministers, senior officials and working-level experts from the 21 APEC member economies are convening in Detroit, best known as the center of the United States automobile industry, over the next ten days against a backdrop of persistent economic headwinds and risk of declining globalization.
"As the Asia-Pacific region emerges from the COVID-19 pandemic, our agenda will provide an opportunity for members to engage and zero in on how we can ensure international cross-border trade flows smoothly, and how trade can help us address the region's most pressing challenges from climate change to economic inequality," said Dr Rebecca Sta Maria, Executive Director of the APEC Secretariat.
"I can't stress enough how critical engagement between member economies is despite differing views on several issues related to trade and investment," added Dr Sta Maria. "When officials and ministers convene next week, the task at hand is to ensure we push forward an inclusive and sustainability agenda so that we can protect the future for our people in the region."
The proceedings will culminate with the 2023 APEC Ministers Responsible for Trade Meeting on 25-26 May, to be chaired by the United States Trade Representative, Katherine Tai. It will build on new measures advanced at this year's Second APEC Senior Officials' Meeting on 24-25 May, to be chaired by Nora Todd, the 2023 APEC Alternate Chair of the Senior Officials' Meeting as well as policy development exchanges within more than half a dozen technical working groups.
"Detroit represents the story of United States' economic revitalization, transformation and resilience," said Matt Murray, US Senior Official for APEC. "Detroit showcases the importance of cross-border trade with our neighbor, worker-centric trade policies and an advanced manufacturing industry, making it a perfect location for highlighting economic inclusion and innovative growth."
"We are committed to being a good steward of APEC to promote an international economic policy that boosts prosperity both at home and in the region," Murray added. "APEC has delivered success stories in the past three decades and we want to build on this momentum."
During their meeting, APEC Ministers will discuss practical examples of how trade policies and cooperation on trade and investment through APEC can contribute to sustainable and inclusive trade.
Ministers will also convene with the Director General of the World Trade Organization (WTO) Dr Ngozi Okonjo-Iweala, to discuss how APEC can continue to support the multilateral trading system and the WTO. The unveiling of the APEC Policy Support Unit's latest Regional Trends Analysis report will also help to guide APEC Trade Ministers' discussions.
"It is important that we discuss here how to enable an innovative environment for a sustainable future," said Matt Murray. "This issue not only covers the digital economy priorities, but it's also how we can use technology to really address the climate crisis, advance environmental protection and attempt to build a more sustainable future across a whole range of efforts – whether it's food security, disaster risk reduction, or mitigating the impacts of climate change."
For further details, please contact:

Masyitha Baziad +65 9751 2146 at [email protected]
Michael Chapnick +65 9647 4847 at [email protected]