Secretary Buttigieg: Address Supply Chain Disruptions in Transportation and Connect Communities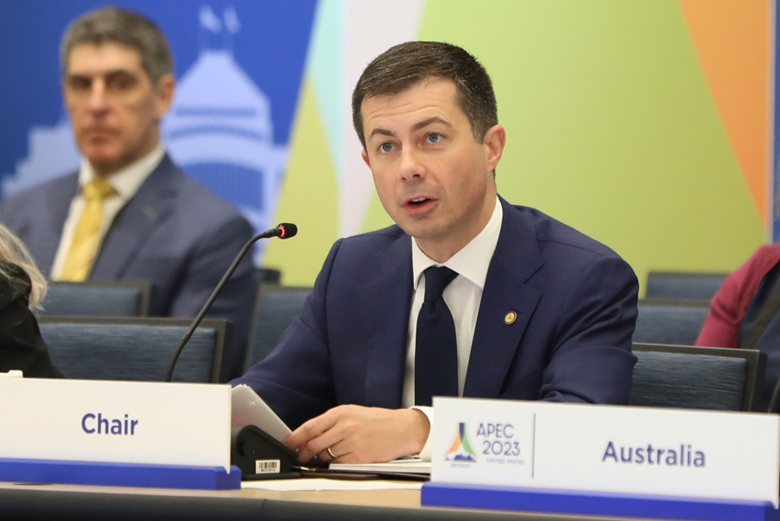 The United States Secretary of Transportation Pete Buttigieg opened the APEC Transportation Ministerial Meeting on Tuesday by emphasizing the need to build stronger supply chains and significantly reduce greenhouse gas emissions in the transportation sector to create good jobs and economic growth that benefits everyone.
"We gather in the awareness that so many challenges to achieving prosperity in any economy are challenges facing every economy, and often such challenges have particularly great impact on the Asia-Pacific region and demonstrate the region's importance," said Secretary Buttigieg in his opening remarks at the meeting.
"Pandemic driven supply disruptions, increasingly frequent extreme weather events, and economic inequality, these challenges don't just affect one economy while sparing the others, they affect us all," added Secretary Buttigieg. "These challenges are often shared opportunities that grow even more promising through dialogue and exchange."
He underscored the importance of supply chains resilience, highlighting that many economies are continuing to deal with major challenges to global supply chains and it is crucial to strengthen the region's supply chains as this will ensure "that the flow of goods that powers our economies succeeds and protect peoples against the higher prices that come from disruptions."
As he welcomed his counterparts to Detroit, a city with a transportation tradition dating back many generations, Secretary Buttigieg highlighted the city's role in leading the automotive revolution and shaping the future of the automotive sector.
Secretary Buttigieg underlined the importance of a transportation system that empowers and unites communities by sharing an example of a project planned by the local community and supported by the US Department of Transportation to reconstruct and redesign a major highway in Detroit, Interstate 375, that was built in 1967 and cut off many communities from economic opportunities in the city.
"With help from USD100 million in funding from our department, the state and the city are acting to replace this highway with the boulevard that connects neighborhoods with safer walking bicycling and driving and fosters more economic growth that makes everyone better off."
The two-day dialogue will hear how Ministers' work to improve the functionality and resiliency of supply chains and how to better connect economy-level efforts to the APEC goals of regional connectivity to drive economic growth, opportunity and job creation.
Ministers will also discuss specific efforts and measures to accelerate low and zero-emissions transportation technologies in the region including the transition to electric vehicles, uptake of sustainable aviation fuels and the rollout of green maritime technologies and fuels—all of which can create good-paying jobs while harnessing innovation.
"Detroit is known for putting the world on four wheels. It is also the city where auto unions took form and helped to create a middle class of workers that remains a backbone of US economic prosperity," Secretary Buttigieg continued.
"We carry that lesson forward to today as we plan for the future," he concluded. "I know we will approach these coming days with openness and with ambitions to match the scale of opportunity and transportation and I'm deeply optimistic about the work we will do to make our people's lives safer fairer and more prosperous."
Earlier on Monday, APEC Transportation Ministers discussed electric vehicle financing with the Detroit Mayor Mike Duggan as well as with leaders representing the auto industry, workers, the charging and banking industry and the Federal Highway Administration.
# # #
For further details, please contact:
Masyitha Baziad +65 9751 2146 at [email protected]
Michael Chapnick +65 9647 4847 at [email protected]
More on APEC meetings, events, projects and publications can be found on www.apec.org. You can also follow APEC on Twitter and join us on Facebook, LinkedIn and Instagram.