APEC Ministers Join Together, Committed to Bring Tangible Benefits for People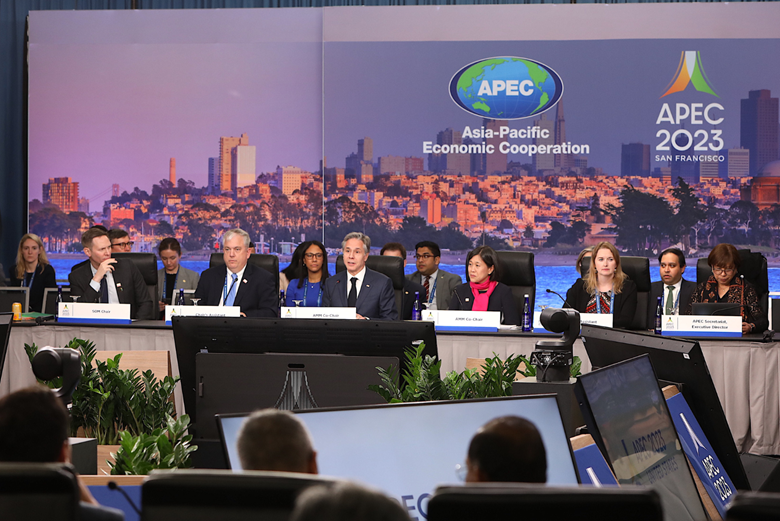 Trade and foreign ministers from the 21 member economies renewed their commitment to bring benefits for the people in the Asia-Pacific region through inclusive economy and trade policies.
Against the backdrop of pressing economic challenges, ministers convened to discuss new measures that will encourage a sustainable future and ensure an equitable and inclusive future for all.
The United States Secretary of State Antony J. Blinken set the stage for the APEC Ministerial Meeting on Tuesday. In his opening remarks, he recalled for his counterparts that while governments have made real progress toward a more prosperous future, the region's policymakers continue to face many economic challenges.
"Each of us recognizes that inequality within and between our countries hinders the growth of our entire region and that more inclusive economies are also stronger economy," Secretary Blinken said.
"Again and again throughout this year, from Honolulu to Palm Springs, from Detroit to Seattle and now in San Francisco, we've heard that our citizens, the people we represent, are hungry to help build that more resilient, more sustainable and more connected future," Secretary Blinked added.
"They are ready to work, to invest, to innovate, to drive the growth that will further strengthen our shared region and our responsibility, our job is to help them do just that," Secretary Blinken said.
Ministers are also looking at policy levers that will help reform trade and investment to be more sustainable and inclusive, embracing women and those with untapped economic potential.
"I am optimistic that we will once again emerge stronger as a region even as we meet at this time of great uncertainty and challenges," said United States Trade Representative Ambassador Katherine Tai in her opening remarks.
"These hurdles in our midst do pose a threat, but they also present an opportunity to assess where we are, to think creatively, to bring our strengths together, to sketch out the future that we want to see and experience, one that is resilient, sustainable and inclusive for all of our people," Ambassador Tai said.
Ambassador Tai highlighted that despite differences in upbringing and background, there's commonality among all small businesses across the region that provides important perspective to policymakers. "We all want peace, we all want to provide for our loved ones, we all want tomorrow that is better that today."
"As policymakers we can sometimes fall into the trap of talking about and formulating trade policies in a vacuum, but we must remember that the decisions that we make today will have real impacts on real people," said Ambassador Tai.
Ambassador Tai stressed the need to continue the great momentum in further embedding the concepts of inclusivity and sustainability as benchmarks of trade and investment, and advance work toward a set of principles that would provide APEC economies with practical ways to incorporate inclusivity and sustainability into members' trade and investment policies.
"Only when we put the real people at the heart of what we do can we truly use trade as a force for good," Ambassador Tai concluded.
For further details, please contact:
Masyitha Baziad +65 9751 2146 at [email protected]
Michael Chapnick +65 9647 4847 at [email protected]