Ambassador Tai: APEC Must Forge Ahead New Path for Our People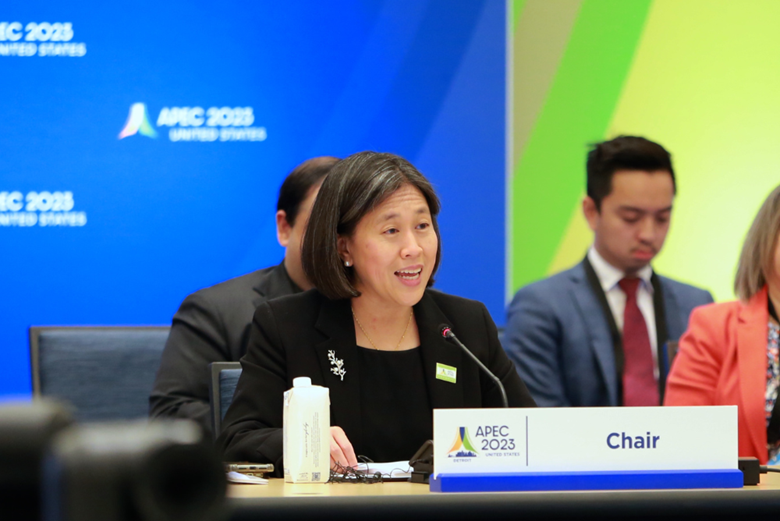 Ministers Responsible for Trade from 21 APEC member economies are advancing cooperation and collaborative measures as fragile supply chains, growing inequality and the worsening climate crisis present persistent risks and a grave economic outlook.
"We meet at a time of shared uncertainty and challenges in the global economy," said United States Trade Representative Katherine Tai. "These challenges were exacerbated through the pandemic and increasing geopolitical tensions that we see today."
"In light of this, we must assess where we are and think creatively to better prepare ourselves for a more resilient and sustainable future," added Ambassador Tai as she opened the meeting on Thursday.
Welcoming her counterparts to Detroit, known as the Motor City, she highlighted United States' focus in putting workers at the center of the trade policy and how the city provides an illustrative background to this discussion.
"It is not an exaggeration to say that Detroit, past, present and future, is at the heart of this," Ambassador Tai explained. "Detroit has experienced first-hand some of the most negative impacts of an aggressive liberalization of trade and deindustrialization factories that have been shuttered and communities who have suffered."
At the meeting, sustainability and inclusive trade policy took center stage as economies deal with higher living costs, soaring government debts and weak global demand. Leaving no one behind was a common theme and echoed around the room as ministers acknowledged the current economic situation and its outlook.
Ministers also shared their top priority to support of the multilateral trading system, focusing on how to make the World Trade Organization (WTO) more effective so it can respond to the challenges economies face today. Ministers also shared specific examples of where the WTO is particularly effective and which area needs improvements.
In her response to ministers, Director-General of the WTO, Dr Ngozi Okonjo-Iweala, urged ministers to not take the multilateral trading system for granted as it was created for a reason, and it has delivered to a large extent, however, it also has had its own problems and it needs reform.
She reiterated that the WTO's reform speaks to the very credibility of the organization and urged ministers as they head to the next Ministerial Conference to work together to deliver tangible outcomes. "Talk is good, but action is more important."
"Our economies were able to work together at the 12th WTO Ministerial Conference just short of a year ago," Ambassador Tai said. "We came together to deliver important outcomes. We need to build on those successes and to move deliberately and intelligently forward in reforming the WTO to better respond to today's challenges."
"APEC is known as the incubator of trade policy ideas," she added. "Frequently, the best practices, guidelines, principles or blueprints developed in the APEC setting become the foundation for, or play a vital role in, advancing discussions for the 164 members of the WTO."
Ambassador Tai also pointed out the work done by past APEC hosts Malaysia, New Zealand and Thailand, who piloted the forum through the pandemic and navigated APEC in the right direction with the APEC Putrajaya Vision, Aotearoa Plan of Action and the Bangkok Goals on the Bio-Circular-Green Economy.
"We have a solid foundation to build on," Ambassador Tai added. "We have a golden opportunity in APEC to forge a new path for our people and for our planet, and to build our economies from the bottom up and the middle out to deliver tangible results for our people."


For further details, please contact:

Masyitha Baziad +65 9751 2146 at [email protected]
Michael Chapnick +65 9647 4847 at [email protected]