APEC Trade Ministers Address Uncertainties, Inclusion Needs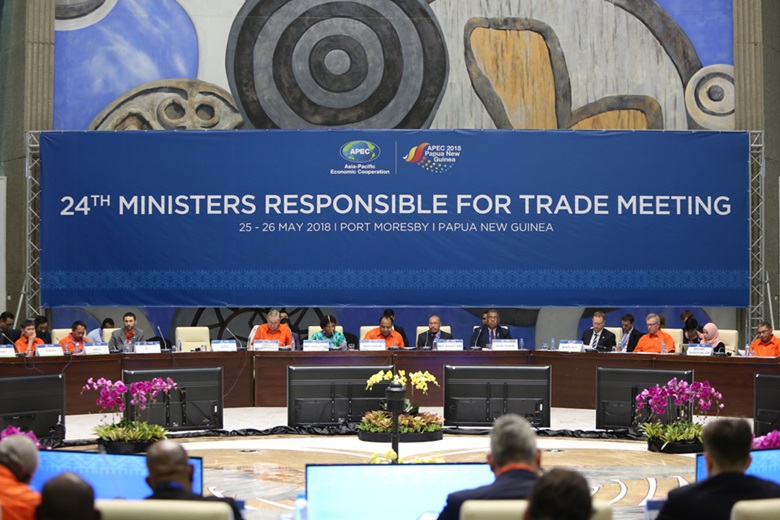 Papua New Guinea Foreign Affairs and Trade Minister Rimbink Pato opened the APEC Ministers Responsible for Trade Meeting by urging greater leadership in APEC to tackle uncertainty and enable more inclusive growth throughout the Asia-Pacific.
Setting the tone for the proceedings in Port Moresby, Minister Pato took stock of challenges across the changing global landscape and outlined steps trade ministers from the APEC member economies can take to keep trade moving and open opportunities for people in all parts of the region.
"We are convened in the midst of rising sentiments in some quarters against the multilateral trading system, rapid global warning due to climate change and rapid development of information communication technology creating a whole new dimension of international trade," explained Minister Pato.
"We must ensure APEC is a key driver of global economic growth, creating jobs for our people, reducing poverty and ensuring that no one is left behind," added Minister Pato, who underscored the importance of narrowing digital divides. "Let us continue to work to ensure that economic development is sustainable and inclusive."
Trade ministers are considering ways forward in APEC to improve regional connectivity and market integration, the ease of doing business across borders and participation in trade by widening access and use of digital technologies.
Calling attention to the potential for digital economy breakthroughs at a grassroots level, trade ministers recognized the winners of the 2018 APEC App Challenge. Local daughter-father team, Crystal and Jonathan Kewe, developed a platform that allows weavers to showcase their traditional Papua New Guinean sling bags, or bilums, and more easily connect with buyers.
"Digital trade and e-commerce are creating more opportunities for our micro, small and medium enterprises," noted Minister Pato. "We need to keep our markets open and make necessary investments to develop our domestic infrastructure and human resources to ensure that the benefits from open and free markets are diffused to all segments of our society."
Trade Ministers are addressing next generation trade and investment issues and the direction of APEC's Free Trade Area of the Asia-Pacific agenda. They are also exchanging views on supporting the multilateral trading system, taking into account a briefing from World Trade Organization Director-General Roberto Azevêdo on the state of global trade.
"Let us resolve to send a strong message to the global community that APEC believes in a free, non-discriminatory and inclusive multilateral trading system," said Minister Pato. "Let us recommit ourselves to advance the realization of a comprehensive and high quality free trade agreement for the region that will enhance inclusive and sustainable growth."
"We need to provide greater opportunities for our people and, at the same time, provide leadership at the global level," Minister Pato concluded. "Let's work together and make progress for the benefit of our people."
The APEC Ministers Responsible for Trade Meeting will conclude on Saturday.
# # #
For further details, or to arrange possible media interviews, please contact:
David Hendrickson (in Port Moresby) +65 9137 3886 at [email protected]
Michael Chapnick (in Port Moresby) +65 9647 4847 at [email protected]
More on APEC meetings, events, projects and publications can be found on www.apec.org. You can also follow APEC on Twitter and join us on Facebook, LinkedIn and Instagram.