Efforts to Revitalize Trade and Build Public Consensus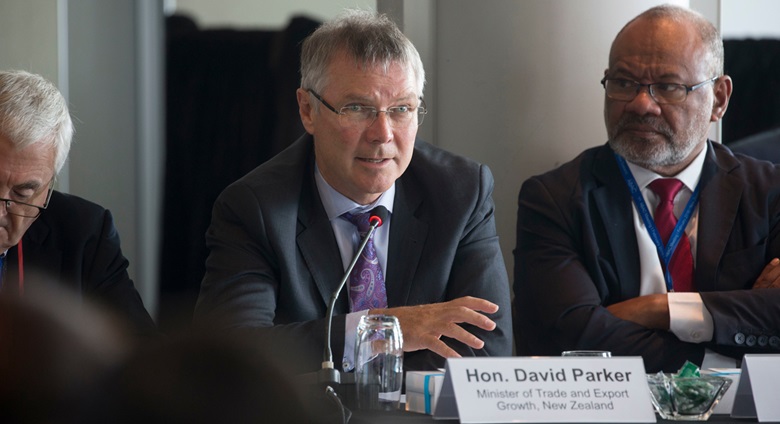 New Zealand's Minister for Trade and Export Growth, David Parker, underscored on Friday the need for business to help re-build public consensus for trade which has eroded around the world.
Just two weeks after the Comprehensive and Progressive Agreement for Trans-Pacific Partnership (CPTPP) concluded in Japan, Parker engaged the Asia-Pacific business community here in this multicultural, regionally-connected city of Auckland to urge progress toward regional economic integration. Bringing a new dimension to economic development, Parker called for emphasis on labor, small business, women and the environment.
This was the tone he set for discussions held by APEC Business Advisory Council members who are seeking sustained and inclusive prosperity for the region and make better lives for all.
"I believe quite strongly that if modern societies are going to forestall public concerns about inequality and lean against the sentiment that we've got in this rising opposition to trade and support for increased trade barriers than we've got to both recognize and address these concerns," Parker explained.
Hundreds of millions of people in the Asia-Pacific region have been pulled out of crippling poverty because of fair and free trade resulting in economic growth.
"Many have felt left out by globalization and might confuse it with technological change and forces that can't be stopped," Parker continued. "They're worried about the concentration of wealth and they feel the system is stacked in favor of the super-wealthy."
"This year, APEC is prioritizing the digital economy that enables small businesses to benefit from international trade," said Ambassador Ivan Pomeleu who is the 2018 Chair of the APEC Senior Officials. "Making sure SMEs have access to global value chains, distribution networks and e-payments through digital technologies will open up opportunities where they did not previously exist."
According to the International Monetary Fund, there is a direct economic cost to rising inequality that leads to slower and less durable growth. This is based on statistical evidence collected by researchers who reviewed rates of growth over long periods of time, the level of income across countries and the duration of growth spells.
"We don't like these increasing extremes of wealth nor the debilitating drag on the economy," said Parker. "We will still strive for a more progressive and inclusive trade agenda through high quality and ambitious free trade agreements and trade relationships."
"Our vision is one of shared prosperity with an economy that's serving the interests of all people where everyone participates in the economy."
Separately, APEC Senior Officials' are meeting informally on Sunday in Auckland to discuss broader governance issues and the post-2020 vision for the organization.
# # #
For further details, or to arrange possible media interviews, please contact:
David Hendrickson +65 9137 3886 at [email protected]
Michael Chapnick +65 9647 4847 at [email protected]
More on APEC meetings, events, projects and publications can be found on www.apec.org. You can also follow APEC on Twitter and join us on Facebook and LinkedIn.