APEC Ministers Strengthen Food Markets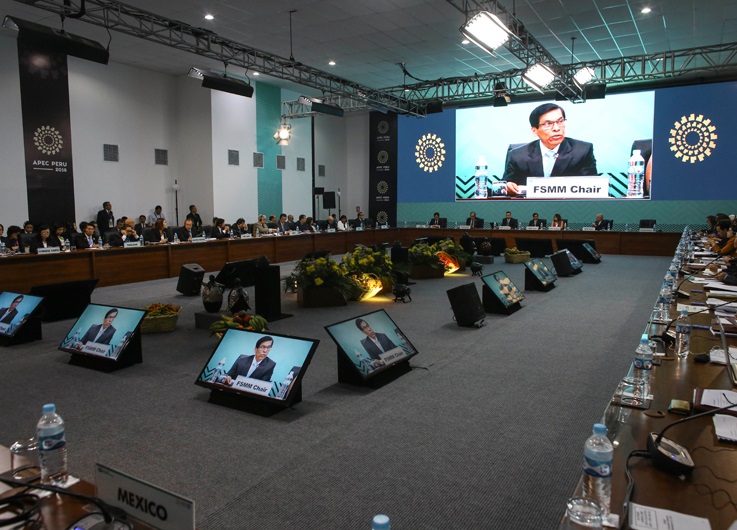 The global population is projected to hit 9.6 billion by 2050 and the world will need to increase the food it produces by 60 per cent. This outlook brings ministers from the 21 APEC member economies together to tackle food production and cross-border trade opportunities in the Asia-Pacific to advance food security.
"One of our priorities this year is strengthening the regional food market," said Peru's Minister of Agriculture and Irrigation Jose Manuel Hernandez, who is chair of the 2016 APEC Food Security Ministerial Meeting. "This puts us in a crucial time to address the specific problems of the food production sector."
"The increasingly harsh effects of climate change, diminishing natural resources, as well as gaps in access to services between rural and urban populations are hampering APEC economies' efforts to achieve food security," said Minister Hernandez.
Across the region, agriculture is undergoing changes that impact its ability to produce food as it is demanded by the population. In addition to climate change, food systems are faced with the issue of aging farmers and rising migration of manpower from rural to urban areas, putting to question the sustainability of the farming sector.
Ministers seek to establish policies that encourage scientific innovation, increase investment in the food sector, foster cooperation for the sustainable use and integrated management of water resources and promote sustainable practices to keep food sources resilient.
"We need to strengthen agricultural productivity by taking advantage of the potential of innovation and science and technology as a way to help the region produce more food with dwindling natural resources," said Minister Hernandez. "We must also support the integration of small producers to the market."
Ministers seek to enhance the role of public-private partnership to integrate small agribusinesses into global value chains. This includes examining the benefits of multi-sectoral policies to improve the competitiveness of rural-based smallholders and boosting social investment and infrastructure to strengthen rural-urban connectivity.
"In addition to stimulating long-term and inclusive economic growth in the Asia-Pacific, enhancing APEC food systems and achieving our food security objectives and the Bogor Goals will be APEC's contribution to the 2030 Agenda for Sustainable Development," concluded Minister Hernandez.
The Piura Declaration on Food Security gives policy recommendations for the APEC Economic Leaders to consider during their annual meeting on 20 November 2016 in Lima.
# # #
For additional information, please contact:
Ma. Lizbeth Baroña-Edra (in Piura) +65 9452 8344 at [email protected]
Michael Chapnick +65 9647 4847 at [email protected]
More on APEC meetings, events, projects, and publications can be found on www.apec.org. You can also follow APEC on Twitter and join us on Facebook and LinkedIn.