APEC Mitigates Agriculture Challenges to Boost Growth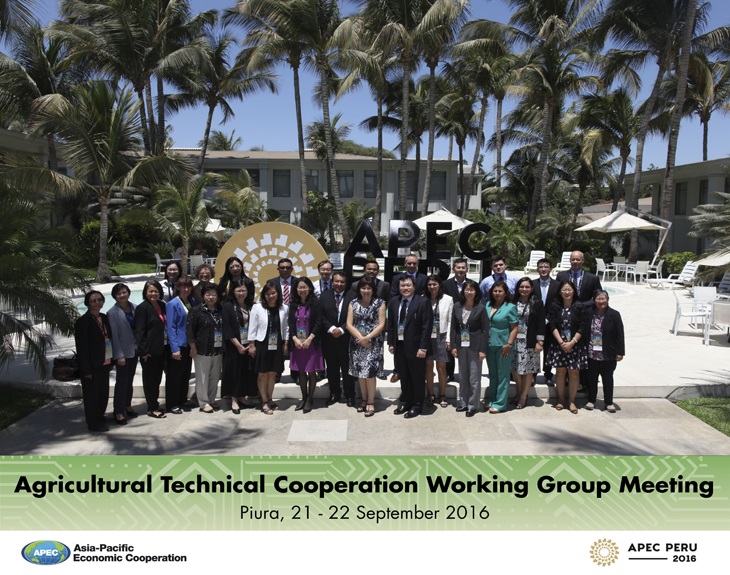 Food security provides the basic condition for a prosperous region that thrives in an integrated economy. This is the challenge that Asia-Pacific agriculture officials are tackling as they come together in Piura, Peru this week to develop food security policy frameworks.
Officials from APEC member economies are convening with industry representatives to help improve the region's agriculture sector. Emphasis is on driving the use of science and technology innovations supported by increased data and information sharing between the public and private sectors.
"We have been working on important projects in different fields through which economies have been able to strengthen food security and promote sustainable agriculture," said Peru's Ministry of Agriculture and Irrigation's Office of Planning and Budget Director General Juan Escobar.
Members were briefed on projects currently being implemented by APEC member economies. These projects include developing smallholder-inclusive food value chain models for local and global markets; and promoting cold chain technology to prevent food losses, increase farmers' income, and provide a variety of food to consumers. The members are also promoting the use of advances in information and cloud technology to enhance agricultural research as well as activities that strengthen public-private partnerships to prevent food losses in supply chains.
There was consensus on the role of growth originating in agriculture and the strong impact it has on poverty and hunger alleviation.
"The proportion of undernourished people in the Asia-Pacific region fell from 20 per cent in 1990-1992 to 11.8 per cent in 2011-2013," said the APEC Agricultural Technical Cooperation Working Group Lead Shepherd Feng Dongxin. "Cutting the number of undernourished by half puts the region on track to achieve the global goal of eradicating extreme poverty and hunger."
"Given the increasingly stringent constraints of land, water, and other natural resources, and the mounting pressure of environmental protection, we need to apply advanced technologies and techniques to maintain and increase production as well as provide food at affordable price as labor moves out of the agriculture sector," said Dr Feng.
Dr Feng encouraged the group to continue playing its role of guiding agricultural research and technology development and transfer within APEC.
"It is imperative that we build stronger cooperation among APEC member economies to support agriculture, which plays an important role in promoting regional and global food security, as well as supporting the 2030 Agenda for Sustainable Development," she concluded.
# # #
For additional information, please contact:
Ma. Lizbeth Baroña-Edra (in Piura) +65 9452 8344 at [email protected]
Michael Chapnick +65 9647 4847 at [email protected]
More on APEC meetings, events, projects, and publications can be found on www.apec.org. You can also follow APEC on Twitter and join us on Facebook and LinkedIn.