APEC Senior Officials finalizing platform for new growth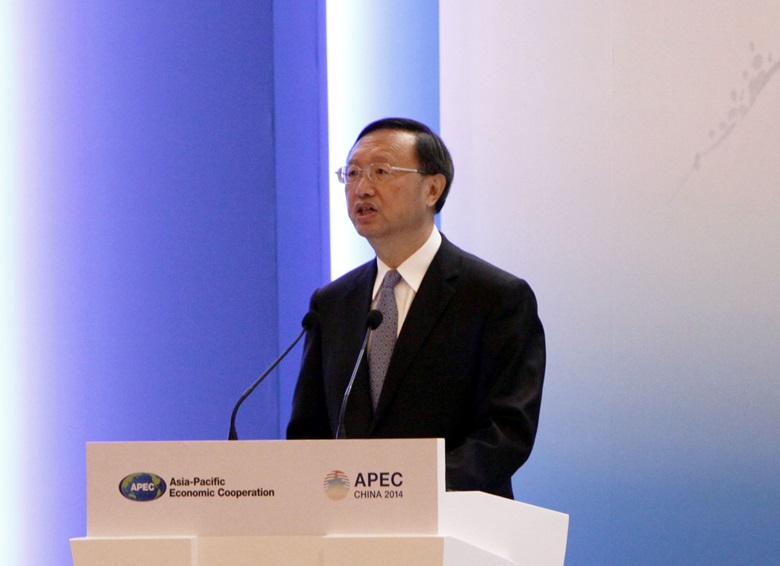 A pivotal two-day meeting of Senior Officials from the 21 APEC economies, the world's largest regional economic group, has commenced in Beijing to finalize a suite of ambitious measures for accelerating growth across the Asia-Pacific and ensuring global recovery.
In opening remarks, China State Councillor Yang Jiechi called upon APEC economies to go the extra mile to strengthen regional economic integration, promote innovative development and economic reform and growth, and enhance comprehensive connectivity and infrastructure building.
"Faced with the new economic landscape and related changes, our economies are pushing for greater regional economic integration with a view to building a big, open and integrated Asia-Pacific market that benefits all," Yang explained.
"We need to uphold the spirit of openness and inclusiveness, learn from each other and develop economic and regional cooperation frameworks that are open in order to jointly promote the building of a Free Trade Area of the Asia-Pacific."
Senior Officials are now taking concrete steps toward the realization of a Free Trade Area of the Asia Pacific, or FTAAP, that builds upon current regional free trade endeavours —a vision endorsed by APEC Leaders. They are further putting forward new initiatives to build the technical capacity of APEC's diverse member economies to advance an eventual FTAAP.
An APEC Accord on Innovative Development, Economic Reform and Growth is also on the table. This includes actions to promote economic reform, new economy, innovative growth, inclusive support and sustainable urbanization with an aim to explore new sources of growth for the economy.
"For the Asia-Pacific to lead and steer the world economy, we should remain innovation-driven, unshackle and give full play to productive forces, and encourage economic development by pressing forward with innovations in development concepts and capture new sources of growth," stated Li Baodong, China's Vice Foreign Minister and 2014 Chair of the APEC Senior Officials' Meeting.
Rounding out the details of a new APEC Blueprint on Connectivity is another priority. The goal is to forge synergy and outline a long-term work plan for APEC connectivity cooperation and to identify gaps in the region's interconnectedness and articulate specific long-term actions and targets for addressing them.
Points of consideration include the need for more robust infrastructure growth, further cooperation on institutions, more efficient flows of people, goods and capital around the region, and the leveraging of the internet and new technologies that promote exchanges of information and views that support productivity and higher quality growth.
"The global economy is continuing to gain momentum but there is still a need to take greater steps to bolster productivity, job creation and wages, and harness new growth drivers to ensure things keep moving in the right direction," concluded Dr Alan Bollard, APEC Secretariat Executive Director. "There is a clear recognition within the APEC region that words are not enough and that actions that translate into high economic returns are the order of the day."
# # #
For additional information, or to arrange possible interviews, please contact:
David Hendrickson +65 9137 3886 at [email protected]
Michael Chapnick +65 9647 4847 at [email protected]
Details about APEC's 2014 priorities and initiatives can be found on www.apec.org. You can also follow APEC on Twitter and Sina Weibo and join us on Facebook and LinkedIn.