Gao: Accelerate Asia-Pacific integration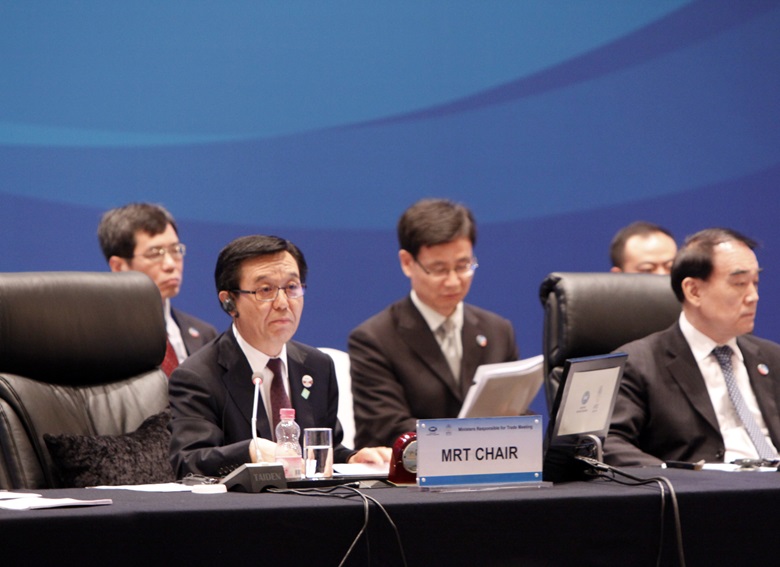 Trade Ministers from the 21 APEC member economies are gathered in the port city of Qingdao intent on putting trade and economic activity across the Asia-Pacific on a more even and robust growth path amid shifting regional and global conditions.
Opening the proceedings, Minister Gao Hucheng of China's Ministry of Commerce described the need for resilience to build on the progress achieved by APEC economies over the last 25 years in promoting trade and investment liberalization and the implications this has for the future direction of the global growth.
"The recovery of the world economy is picking up, however, there are still many instabilities and uncertainties," said Minister Gao who is chairing the meeting. "More risks are gathering."
"It is urgent for APEC members to demonstrate enough wisdom and courage to continue to firmly support the multilateral trading system and accelerate the Asia-Pacific economic integration process," Minister Gao exhorted. He pointed to the region's role in "shouldering the responsibility of powering the global economy."
Together, APEC economies account for about half of global trade and 60 per cent of total gross domestic product.
Under the APEC 2014 theme, "Shaping the Future Through Asia-Pacific Partnership," Trade Ministers are discussing the next step for APEC in sustaining momentum in the multilateral trading system. World Trade Organization Director-General Roberto Azevedo briefed Ministers on post-Bali Package developments and ways to advance and conclude the Doha Development Agenda.
Trade Ministers are meanwhile charting a path for strengthening regional integration and how emerging free trade agreements and regional trade agreements can move APEC economies towards the realization of a Free Trade Area of the Asia-Pacific, a shared goal endorsed by APEC Leaders. They are also pursuing actions to meet rising connectivity and infrastructure demands while boosting productivity and new economic opportunities for businesses and people in the region.
"The Asia-Pacific has become the region where global value chains and supply chains are most closely knitted," Minister Gao explained. "However, the development differences between the members have yet to be bridged. The interconnectivity in human resources, infrastructure and organizations is still weak."
"We should actively carry out economic and technical cooperation and focus on bottlenecks in regional interconnectivity and infrastructure development, and discuss new approaches and new thinking for economic innovative development, reform and growth," he concluded.
"As long as we work together and carry forward the partnership of openness, inclusiveness, cooperation and win-win, have in depth communication and work closely, we are sure to achieve positive, practical and constructive outcomes."
The APEC Ministers Responsible for Trade Meeting will continue through Sunday.
# # #
For more details or to arrange possible media interviews, please contact:
David Hendrickson +65 9137 3886 at [email protected]
Michael Chapnick +65 9647 4847 at [email protected]
Additional details about APEC meetings, events, projects and publications can be found on www.apec.org. You can also follow APEC on Twitter, Facebook and LinkedIn.