Public to choose APEC Photo Contest 2013 "Popular Choice" winner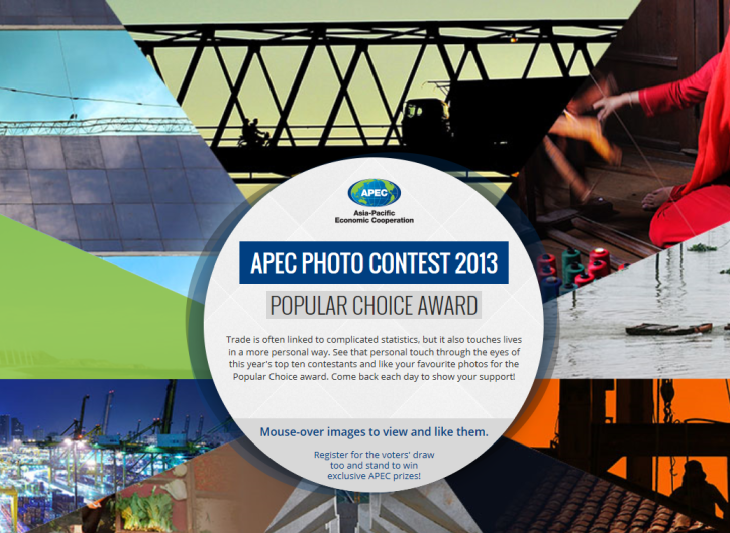 The top ten finalists for the APEC Photo Contest 2013 have been selected. Over the next three weeks, the public will pick the Popular Choice winner of the APEC Photo Contest 2013 whose submissions reflect APEC member economies' shared priorities to enhance trade and investment, sustainable growth with equity and connectivity.
Individuals can select their favorite photo for the APEC Popular Choice Award from ten short-listed finalists. These photos can be viewed, selected and shared using an app designed for Facebook: http://photocontest.apec.org/2013/.
"The nearly 600 photographs we received from entrants based throughout the Asia-Pacific are a testament to the talent and creativity that thrives in our region," said Dr Alan Bollard, Executive Director of the APEC Secretariat. "Their work inspires us and helps to ensure that APEC's agenda is aligned with the values and needs of the people we serve."
The photo that garners the most "likes" by the 22 September 2013 deadline will receive the APEC Popular Choice Award and SG$1,000. Those who participate in the selection process will also be eligible to win prizes in a lucky draw.
A blue ribbon panel will also select the Judges' Prize winners. The first prize winner will receive S$2,000, while second and third prize winners will receive S$1,500 and S$1,000 respectively. These photos will be showcased during the 2013 APEC Economic Leaders' Week in Bali in October as well as in key APEC publications.
"The top ten photos mirror the high caliber of submissions provided by amateur and professional photographers from the region," said Arbain Rambey, one of the judges who is an acclaimed photojournalist of nearly 40 years and Photo Editor of Indonesian newspaper, Kompas Daily.
"We will evaluate the finalists based on their relevance to APEC's 2013 work focuses, creativity and artistic qualities, and underlying technical strength," he explained.
The other judges include Ambassador Yuri Thamrin, 2013 Chair of the APEC Senior Officials, Dr Bollard of the APEC Secretariat, Eric Baradat, Editor-in-Chief of Agence France-Presse Photo, and photographer Palani Mohan whose work has been featured in publications such as National Geographic and Time magazine.
# # #
For more information, please contact Jennifer Juo +65 6891 9674 at [email protected] or Michael Chapnick +65 6891 9670 at [email protected].
Additional details about APEC meetings, events, projects and publications can be found at www.apec.org. You can also follow APEC on Twitter and join us on Facebook and LinkedIn.