ASPIRE Prize winner balances ocean conservation and socioeconomic viability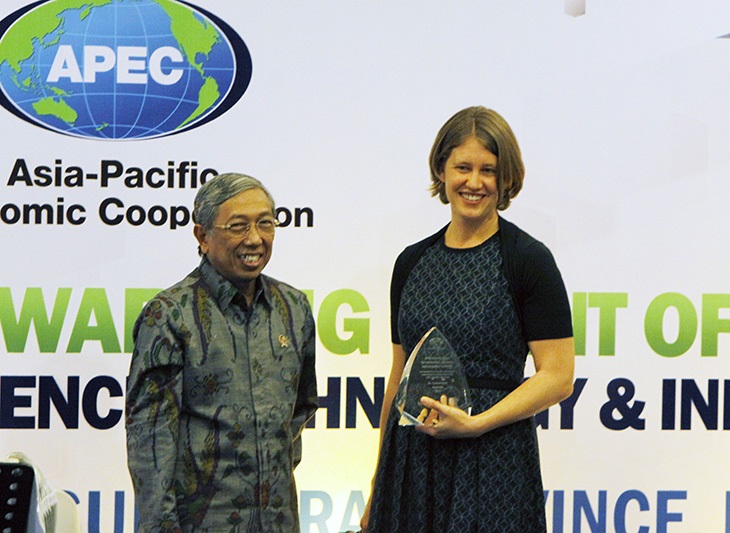 Dr. Carissa Klein of Australia was awarded the APEC Science Prize for Innovation, Research and Education (ASPIRE) on Monday by Gusti M. Hatta, Indonesia's Minister of Research and Technology.
Dr. Klein's selection is a result of her research with the University of Queensland that uniquely addresses the issue of sustainable ocean development by striking a balance between biodiversity conservation and socioeconomic viability.
"We selected Dr. Klein as the 2013 ASPIRE winner based on her approach to negotiating the fragile balance between ocean conservation and sustainable livelihoods," Minister Hatta said on Monday evening at a ceremony honoring Dr. Klein. "This is at the heart of Indonesia's 2013 APEC priority of sustainable development with equity."
Minister Hatta said that this year's ASPIRE theme, "Sustainable Ocean Development," was chosen by Indonesia because of its desire for APEC to actively promote environmentally and economically sustainable solutions for oceans and waterways. Other criteria for the ASPIRE selection process included excellence in scientific research and commitment to cooperation with scientists across APEC economies.
"The establishment of marine protected areas is often viewed as a conflict between conservation and fishing," explained Dr. Klein. "But we can zone the ocean to meet the needs of multiple stakeholders, including the fishing industry, mining companies and conservation groups."
This is one of the issues Dr. Klein's research effectively addresses. Her work has helped two APEC member economies—Malaysia and the United States—sustainably zone the ocean for fishing and conservation. Using spatial conservation prioritization, her research informed a systematic design of a network of marine protected areas along California's central coast that accounted for commercial and recreational fisheries in the region.
"The ideal outcome of many conservation plans is meeting its biodiversity goals cost effectively and distributing the benefits or costs equally," Dr Klein said. "These three aims are also known as 'triple bottom line solutions' – efficient, cost-effective and equitable."
Dr Klein's work is used by governments and non-governmental organizations to inform marine conservation and sustainable management decisions. She is an Australian Research Council (ARC) Post-Doctoral Research Fellow with the University of Queensland in Brisbane, Australia.
"This year, we received many successful nominees and APEC is honored to select Dr. Klein as a winner," said Dr. Alan Bollard, Executive Director of the APEC Secretariat.
"Her research, along with all the nominees this year, helps advance APEC's goals to sustainably conserve and manage our valuable ocean resources."
The APEC Science Prize for Innovation, Research, and Education is an annual award that recognizes young scientists. Each member economy, through its representative on the APEC Policy Partnership on Science, Technology and Innovation, is invited to nominate one young scientist under the age of 40 to be considered for the ASPIRE Prize. The USD25,000 ASPIRE prize is sponsored by Wiley and Elsevier, two of the world's leading publishers of scholarly scientific knowledge.
Further information on the ASPIRE Prize, this year's winner and nominees is available on the 2013 ASPIRE Prize website.
# # #
For more information or to arrange possible interview opportunities, please contact Jennifer Juo +65 9721 8660 at [email protected] or Michael Chapnick +65 9647 4847 at [email protected].
Additional details about APEC meetings, events, projects and publications can be found at www.apec.org. You can also follow APEC on Twitter and join us on Facebook.