U.S. Energy Secretary Chu announces APEC ASPIRE prize winner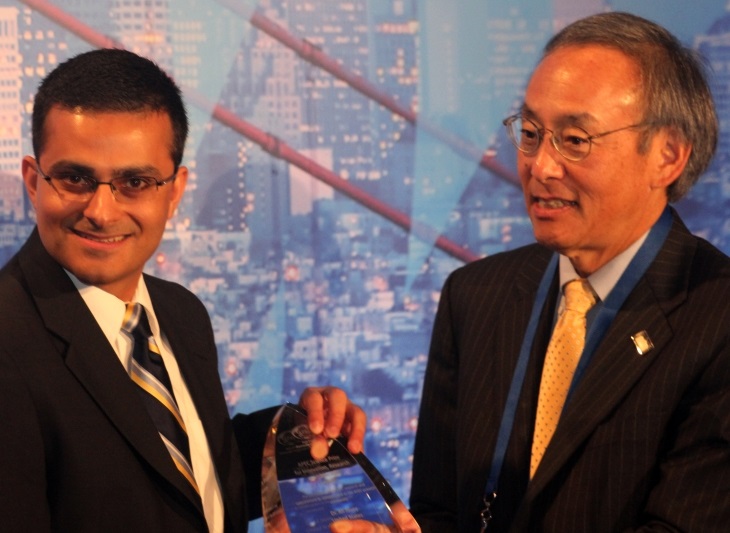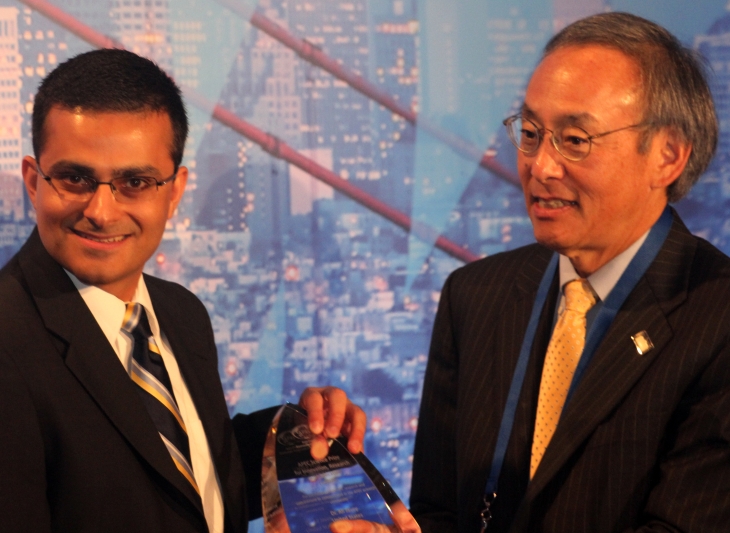 U.S. Secretary of Energy Steven Chu announced today the winner of the inaugural APEC Science Prize for Innovation, Research and Education (ASPIRE Prize) on the sidelines of the APEC Transportation and Energy Ministerial Conference in San Francisco.
Winning the prize for his innovative research on how nanomaterials drive a new generation of solar energy technology Dr. Ali Javey, an Associate Professor at the University of California, Berkeley and the Co-Director of the Berkeley Sensor and Actuator Center, was recognized for his research commitment to both excellence in scientific research, as evidenced by scholarly publication, and cooperation with scientists from other APEC member economies.
When he awarded the US$ 25,000 prize to Javey, U.S. Secretary Chu praised the winner for his collaboration with scientists across the APEC region.
"Dr. Javey's research and the research of his fellow ASPIRE nominees have the power to unlock science in ways that will propel our economies," said Secretary Chu. "This is science that can and will help to solve our shared challenges."
Dr. Javey was selected from among a pool of 11 contenders by the APEC Industrial Science and Technology Working Group (ISTWG). The Lead Shepherd of the ISTWG, Madam Wan Zaharah Wan Mohamad, noted that the economies nominated "exceptional and high potential candidates" whose specialization ranged from nanotechnology to nuclear safety.
"The selection committee was very impressed with Dr. Ali Javey's cutting edge research in green electronics. He is an example of a highly accomplished young researcher," Wan Zaharah said in a written statement. "All the nominees are winners for their economies and for the APEC region as each have its own merits and significant contributions to science."
Ambassador Muhamed Noor, Executive Director of the APEC Secretariat, expressed hope that the ASPIRE Prize will continue to encourage young scientists to conduct world-class research in the region.
"The ASPIRE prize demonstrates APEC's commitment to supporting research and development in the region and we also recognize that science and technology is an integral component for economic development," said Noor as he offered his congratulations to Dr. Javey.
Dr. Javey is the first recipient of the ASPIRE Prize. "In receiving this prize I have to acknowledge the talented scientists I have the privilege of working with around the world and, in particular, in the APEC region," he said. "It is by working together that we are able to do the most exciting scientific research."
Dr. Ali Javey is an Associate Professor at the University of California, Berkeley and the Co-Director of the Berkeley Sensor and Actuator Center. He has developed low-cost, flexible, and lightweight photovoltaic cells that can achieve a theoretical efficiency of 20 percent or more and can be easily rolled onto roofs and other surfaces. Dr. Javey has also developed transistor arrays that use a fraction of the power of conventional silicon transistors. He has produced 81 publications with over 5,000 citations in peer-reviewed journals including Nature, Advanced Materials, and the Journal of the American Chemical Society.
More information on the other nominees can be found at http://www.apec.org/aspire2011. The ASPIRE Prize is sponsored by John Wiley & Sons, Inc. and Elsevier.
# # #
For more information, contact: Ai Ghee Ong at +65 6891 9671 or [email protected] or Michael Chapnick + 65 6891 9670 or [email protected]