10 Quotes from the President of Viet Nam at the APEC CEO Summit 2021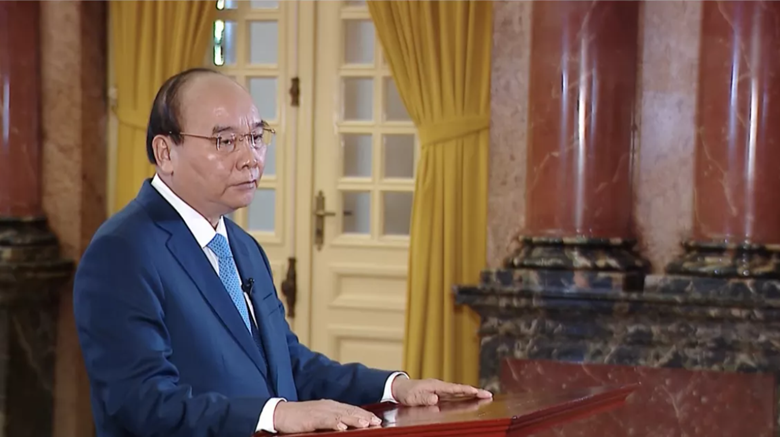 In his speech at the virtual APEC CEO Summit 2021, His Excellency President Nguyen Xuan Phuc of Viet Nam affirmed that sustainable development and climate change response bears strategic importance. Here are ten quotes about how the business community and APEC member economies can work together for sustainability.
"Our green planet is shaken by cumulative and unprecedented impacts caused by climate change, extreme natural disasters, environmental degradation, and the COVID-19 pandemic. […] Time is not on our side, for these challenges continue to worsen with every passing day. Thus, we need to work closely together to overcome such hardships."
"Over the past three decades, APEC has not only been serving as a driver for global growth, facilitating trade and investment, but also playing a pioneering role in responding to natural disasters, developing clean energy, preserving biodiversity, and stepping up trade in environmental goods."
"To fulfill the APEC Putrajaya Vision 2040, APEC Leaders are joining hands and setting aside differences to spearhead more robust and concerted efforts to stay ahead of challenges and risks, maintain a serene living environment, and ensure sustainable development."
"[Responding to climate change] requires innovative and effective international cooperation, enhanced assistance in providing more resources and new technologies, and capacity building."
"Entrepreneurs are key actors in business and production activities. Their sustained interest is closely associated with stability and development of the entire society. In this connection, low-carbon emissions and green growth provide an opportunity for businesses to transform, enhance their competitiveness and sustainability."
"Each business needs to develop a roadmap to cut emissions in line with the greenhouse gas emission goals and indexes […]. These include green gas emission control, energy efficiency, and greening economic sectors, lifestyles, and consumption habits."
"Invest in the future by focusing on projects in clean energy, new technology development with increasing 'green values', or smart and green architecture."
"It is also essential to establish green supply chains and encourage environmentally friendly behaviors by consumers."
"The APEC Business Advisory Council should draft a 'Guideline on promoting APEC sustainable business', focusing on micro, small and medium enterprises"
"Viet Nam is also pursuing people-centered green development, on the basis of modern institutions and governance, advanced technologies, and high-quality human resources. In this process, Viet Nam looks forward to closer cooperation with APEC member economies […].