The Path to a Sustainable Future is a Harmonious Integration between Prosperity and Environmental Well-being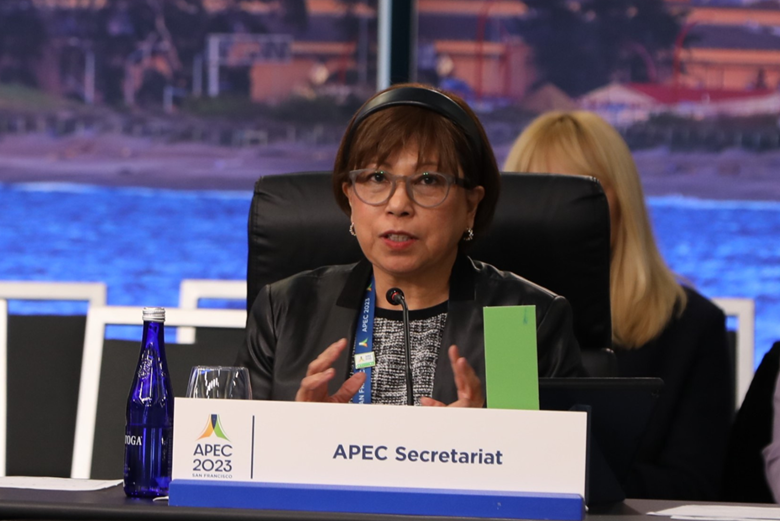 It's not a question of choosing between a thriving economy and a healthy environment; rather, it's about finding a harmonious coexistence where one supports the other.

The pursuit of economic growth and the preservation of our environment are not mutually exclusive. They are two sides of the same coin, each dependent on the other for long-term success.

Before taking on this role at the APEC Secretariat, I was the Secretary General of the Ministry of International Trade and Industry, Malaysia. In that capacity I witnessed examples of foreign and domestic direct investments that benefited the environment, economy and the community, as well as some that, despite meeting the requisite environment regulatory requirements, have had unintended negative impact on the surrounding communities, with displacements and loss of livelihoods. Striving for a balance between economic growth and sustainability of our environment is a challenge for policymakers, although we are all increasingly aware that the decision cannot be binary.

Sustainable biodiversity is proof of the health of our economies. An enhanced understanding of the complex relationships between biodiversity, global health, and development will lead to greater economic prosperity. In other words, the question shouldn't be whether we can have both environment and economy. It should be what is the best way to succeed.

APEC, the premier forum for facilitating economic growth, cooperation, trade and investment in the Asia-Pacific region, has known this right from the beginning. Economic Leaders have committed to protecting the environment as early as 1993 when they met for the first time on Blake Island, just outside Seattle. The Leaders' Declaration that year envisioned the development of a region in which "our environment is improved as we protect the quality of our air, water and green spaces and manage our energy sources and renewable resources to ensure sustainable growth and provide a more secure future for our people."

What I find interesting about that statement is the use of the conjunction, 'and' as an indicator for how Leaders have recognized we could do both.

As a result, over the next few decades, APEC has undertaken many initiatives that address topics related to the conservation and restoration of our environment—from encouraging research and innovation that sustains biodiversity; to holding workshops for officials about marine microplastic pollution and control policy; and to combatting illegal, unreported, and unregulated fishing, which benefit fishing communities as well as put a dent on global food insecurity.

APEC operates through 21 member economies, multiple levels of government, covering dozens workstreams, most, if not all of which are connected to the environment. This vast scope makes it difficult to tag and map all of the work that would be relevant to this forum. But suffice to say that more and more of APEC projects and initiatives are related to sustainability. In fact, on the sidelines of Leaders' Week in San Francisco, a set of APEC's stakeholders—MSMEs, civil society, Indigenous people, women and groups with untapped economic potential—discussed this very topic under the theme of the "just transition."

Landmark APEC environment-related initiatives include the list of environmental goods with reduced tariffs, initiated by APEC and now being negotiated as the WTO Environment Goods Agreement; and the drive to regrow the region's forest cover to 27.9 million hectares. Added to these is the Bio-Circular-Green or BCG Economy concept incorporated into APEC's conversation in Bangkok last year. BCG was introduced as a post-pandemic growth strategy where science, innovation and technology are applied to promote the efficient use of resources, maintain and restore our ecosystems, and reduce waste to build a system where government and business can thrive. It aims to contribute to the global efforts of comprehensively addressing environmental challenges for a sustainable planet. Last November, Leaders officially embedded BCG into our network of activity by committing to what we now call the Bangkok Goals.

The US as host of APEC this year, is fleshing out the Bangkok Goals through its theme of "Creating a resilient and sustainable future for all." This is beyond rhetoric as the US leads 30 relevant projects and initiatives across APEC workstreams to advance our priorities for green growth, climate finance and clean energy transition. These will serve the institution well in stewarding the region towards a sustainable future.

It's been said that the Earth has just entered the Anthropocene—a geological age wherein what we decide to do will matter to the survival of everything on the planet. Whether we like it or not, our economies are on the cusp of a pivotal change—we have before us an opportunity to avert impending crises at the very least, and maybe even create an era in which the human race will prosper while having a positive and sustainable impact on the environment. In APEC we want to be sure that we are on the right side of history.


***
Dr Rebecca Sta Maria is the executive director of the APEC Secretariat.