Overcoming Challenges in APEC's Post-Pandemic Recovery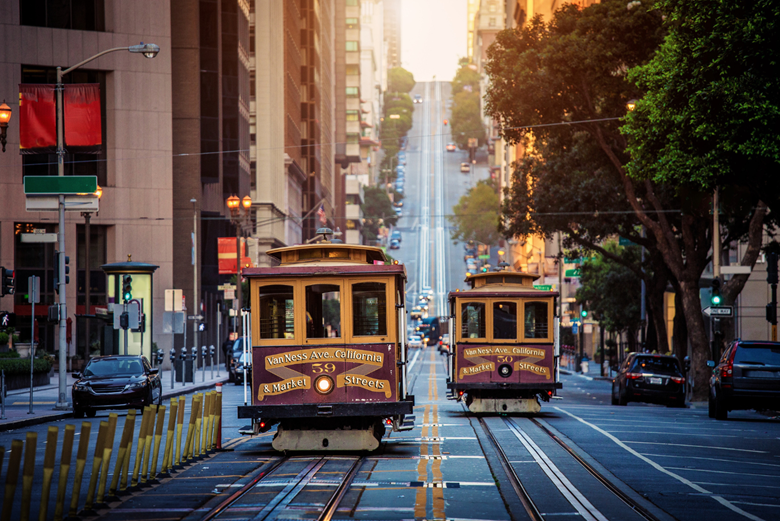 Uneven growth and downside risks
The APEC region's GDP growth improved to 3.3 percent in the first half of 2023 from 2.9 percent a year ago. The rebound in tourism and domestic consumption is driving economic activity in the APEC region. However, growth is uneven across the region, with some expanding above the APEC average while the majority are either growing below average or contracting.

APEC walks a tightrope amid downside risks. While the region is expected to grow by 3.3 percent for the whole year of 2023, the pandemic legacy, stubborn inflation, higher debt levels, climate change, geopolitical tensions, trade protectionism and geoeconomic fragmentation are casting shadows over APEC's prospects. Upside opportunities for growth could come from sustained strength in tourism and consumption activity as well as continued targeted fiscal support. From 2024 until the medium term, growth in APEC is expected to stabilize to a range of 2.8 - 2.9 percent, albeit slower than the rest of the world. Uncertainty in the economic landscape is complicating efforts towards a firmer post-pandemic recovery.

Inflation: A thorn in the side
An uptick in inflation was observed in August-September 2023 at 3.4 percent, particularly due to higher prices of energy, sugar and rice. Supply side factors, including oil production cuts by OPEC+ members and export restrictions, further exacerbated by weather conditions, have led to spikes in commodity prices.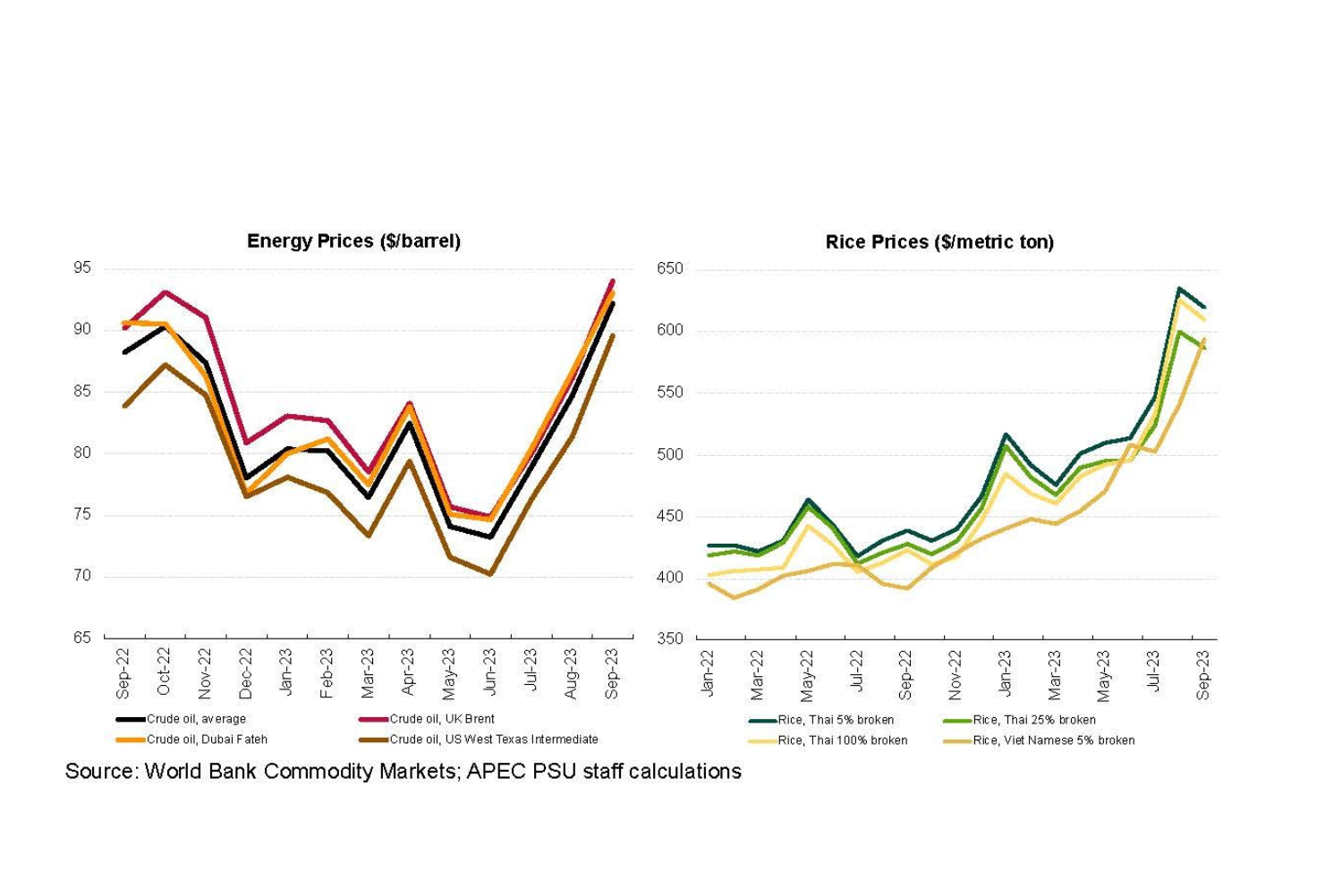 A tighter global supply outlook for oil coupled with robust demand, as well as adverse weather conditions, export restrictions and disruptions in the fertilizer supply chain affecting some agricultural products could lead to a resurgence in inflation. The impact of elevated inflation on the economy goes beyond higher costs of living, as it usually leads to increased interest rates and amplified uncertainty that adversely affect investment and consumption, as well as debt sustainability, among other economic consequences. These in turn could weaken the post-pandemic economic recovery.

Nonetheless, despite these recent developments affecting some key commodity prices, inflation in September 2023 was lower than the year-ago rate of 6.6 percent, due to swift monetary policy action among APEC economies. To fight inflation many APEC economies have been tightening monetary policy by raising interest rates. Compared to the end-2022 level, interest rates went up between 0.25 - 1.25 percent in most APEC economies as of the latest available data in October 2023, while a few economies opted to reduce monetary policy rates to boost economic activity.

Trade contraction amid geoeconomic fragmentation
Merchandise trade contracted in the first half of 2023, with the volume and value of exports declining year-on-year by 3.0 percent and 6.5 percent, respectively, while imports decreased more by 3.5 percent and 7.1 percent during the same period. Trade activity was negatively affected by tighter monetary conditions in response to persistent inflationary pressures coupled with uncertainties in the global environment.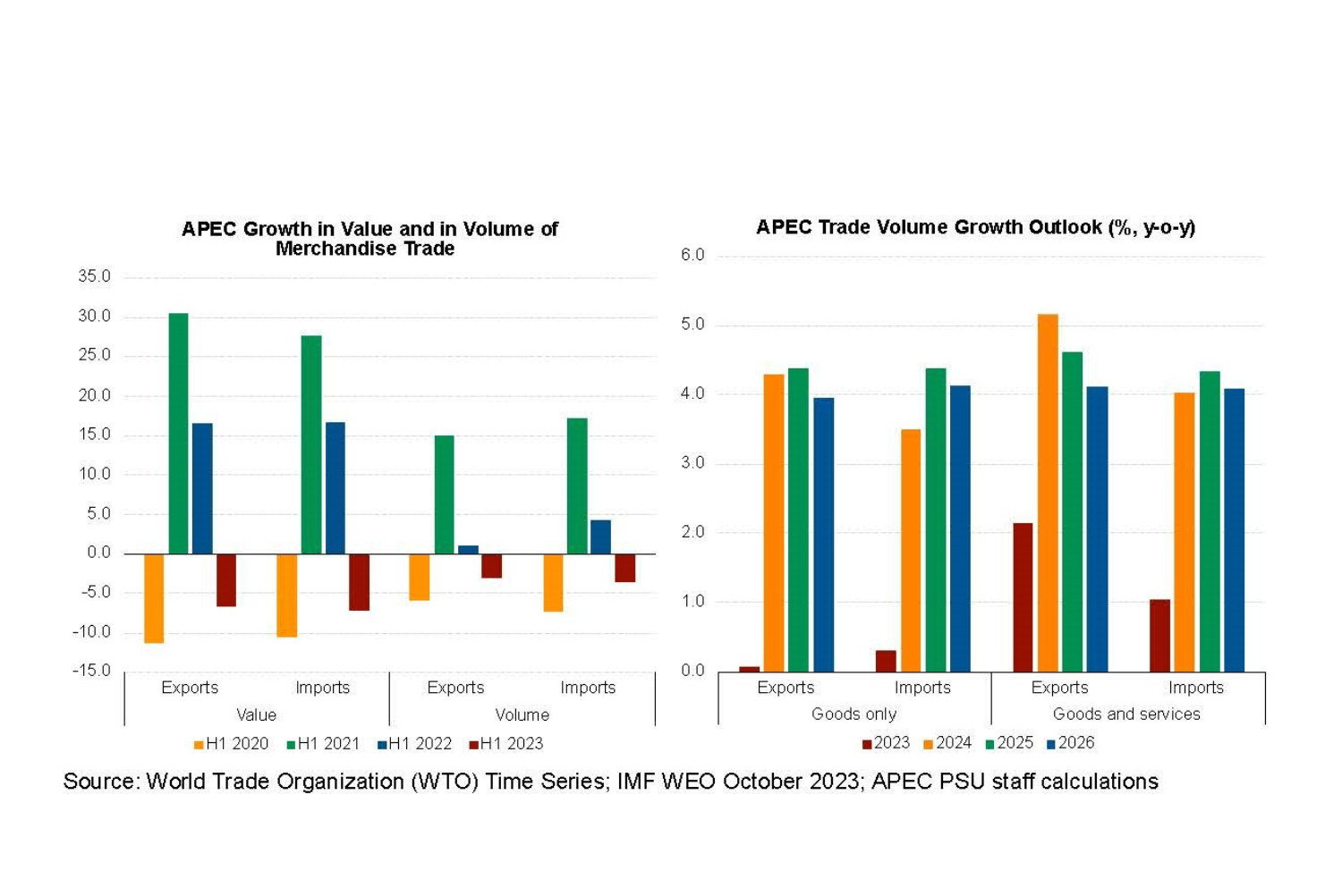 In line with the global trade outlook, APEC expects sluggish trade in 2023, with the volume of merchandise exports and imports growing by only 0.1 percent and 0.3 percent, respectively. A more optimistic outlook emerges for the near-term period, as the region is expected to post a more stable economic growth, with a projected expansion in merchandise trade of 4.3 - 4.4 percent in 2024-2025.

Trade in commercial services is still growing at higher rates, but at a decelerating pace as it expanded at a lower rate in Q1 2023 at 6.8 percent for exports and 10.6 percent for imports compared to year-ago levels. The robust expansion in travel services was partly offset by the slowdown in transport and goods-related services.
The future of trade in the APEC region faces threats due to geoeconomic fragmentation and the accumulation of trade-restrictive measures, including trade remedies. Moreover, according to the WTO, indications of disruptions within supply chains are beginning to surface. For instance, the proportion of intermediate goods in international trade, serving as an indicator of global supply chain activity, dropped to 48.5 percent during the first half of 2023, in contrast to the average of 51.0 percent observed over the preceding three years.1

Aging population and economic costs
Looking ahead, shifting demographics is going to be one of the main challenges in the APEC region. There is a growing elderly population as the percentage of the population in APEC ages 65 and above saw an almost two-fold increase in three decades from 6.8 percent in 1991 to 13.2 percent in 2021. A sharper increase is seen among economies in Northeast Asia, as its elderly population more than doubled to 15.0 percent from 7.0 percent during the same comparable period.

Adding to this, the share of the population aged 0 to 14 contracted in APEC during the same period from 28 percent to 19 percent. Northeast Asia and Southeast Asia have experienced a sharp reduction by 10 percentage points or more in the last three decades.

This demographic shift presents multifaceted challenges. Over the long term, an aging population means higher costs related to healthcare, pension, and social security, along with a shrinking workforce that can lead to skill shortages and economic stagnation. At the same time, the combination of low birth rates and a small youth population within this context implies that workers will face a greater burden in supporting a growing elderly population.

Overcoming challenges
APEC's journey to economic prosperity is marked by both opportunities and challenges. While the region is expected to grow at a more stable pace in the short to medium-term, supported by a rebound in trade, it is vital to remain vigilant and address uncertainties head-on. A balanced mix of monetary and fiscal policies, together with multilateral cooperation are essential tools in navigating an increasingly complex global economic terrain. Looking ahead, initiating appropriate reforms to counter the economic impact of an ageing population is critical to maintain vibrancy and growth. These recommendations include:
Clear and timely communication of monetary policy decisions is essential to manage expectations, control inflation and minimize the economic costs of interest rate hikes.
Prudent fiscal management focused on rebuilding buffers and protecting vulnerable populations is imperative. The economic recovery must be inclusive, ensuring that the most vulnerable in society are not left behind.
Multilateral coordination remains important for tackling rising debt, climate change, green economy transition, protectionist trade policies and supply chain disruptions. Cooperation is crucial to address the complex challenges facing the APEC region.
Recognizing that an aging population will have economic repercussions, economies must begin the necessary task of implementing reforms. The sequence and magnitude of the reforms could vary, depending on priorities and realities. Nonetheless, economies could consider the following: upgrading social security systems to ensure sustainability, including adjusting retirement ages, promoting private savings, and exploring innovative pension models; investing in lifelong learning and skills development programs to help older workers adapt to changes in the job market and remain employable; promoting the adoption of technology in the workplace to enhance productivity, including training older workers in digital skills; and encouraging immigration policies to attract skilled immigrants and integrate them into the workforce to offset demographic imbalances.
***
Rhea Crisologo Hernando is analyst, Glacer Niño A. Vasquez is researcher, and Carlos Kuriyama is director at the APEC Policy Support Unit.

For more on this topic, download the latest APEC Regional Trends Analysis.
1https://www.wto.org/english/news_e/news23_e/tfore_05oct23_e.htm