Advancing Inclusion: Empowering Persons with Disabilities in Education and the Workplace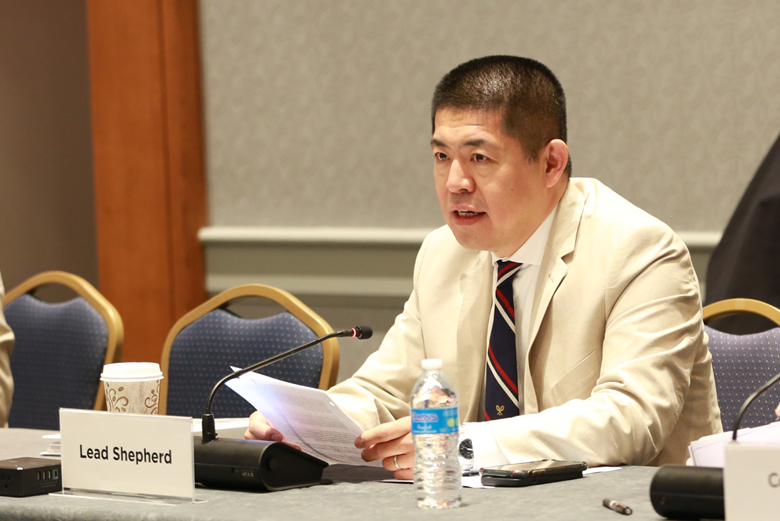 Including persons with disabilities in the education system and workplace is a matter of fairness and also a way to create a more inclusive, diverse and prosperous society.


Inclusion is a shared value inherent to every individual, and it is our responsibility as a society to ensure equal opportunities for all, including persons with disabilities. By implementing inclusive policies, we can empower persons with disabilities, ensure equitable access to education and employment, and foster a society that celebrates diversity.

According to the World Health Organization, an estimated 1.3 billion people experience significant disability, representing 16 percent of the world's population. The World Report on Disability provides an extensive picture of the situation of people with disabilities and the barriers they face to participating fully in their societies.

Last week's APEC High-Level Policy Dialogue on Strengthening Education and Economic Opportunity for Persons with Disabilities was centered around the theme Nothing About Us Without Us – emphasizing the crucial principle of inclusivity and active involvement of persons with disabilities in shaping policies and initiatives. It is imperative that we listen to their voices, understand their needs, and work together to create an inclusive society that leaves no one behind.

Over the course of our dialogue, we embarked on a journey of exploration, learning and collaboration. We were privileged to hear from Sara Minkara, the US Department of State Special Advisor on International Disability Rights, whose insights and experiences provided valuable perspectives on international disability rights and the importance of creating equal opportunities for all. Special Advisor Minkara reminded us that improving accessibility and inclusion is a net benefit to everyone, not just those with disabilities. A remarkable athlete from the Special Olympics, Ben Haack of Australia, shared his inspiring journey and personal experience that shed light on the power of determination and bravery in the face of challenges.

Ben and Sara asked tough questions for us to ponder. We learned about the importance for government programs and policies to consider persons with disabilities first as individuals, and not as a category. Their insights—and those we heard on the floor—form parts of essential solutions that can help us deepen our understanding and identify effective strategies for advancing inclusion, discuss ways to increase APEC members' cooperation, measure progress within the Human Resources Development Working Group, and identify future actions needed to promote equal opportunities.

Why inclusion in the school system is important for sustainable economic growth and prosperity
Every individual, regardless of their abilities, possesses unique talents, skills and potential. By fostering inclusion in the school system, we can tap into this diverse pool of human capital and provide equal opportunities for all students to develop crucial life skills.

Inclusive education prepares students to thrive in a diverse society and workforce. When individuals with disabilities are included in schools, it benefits everyone in the classroom and cultivates a culture of acceptance, understanding, and empathy among students. This exposure to diversity from an early age nurtures an inclusive mindset that carries into the workplace. By embracing diverse learning styles and abilities, inclusive schools create an environment that promotes collaboration, teamwork and effective communication. Students with disabilities develop resilience, adaptability and self-advocacy skills, which are highly valuable in the workplace.

Exclusion from education can perpetuate the cycle of unemployment and poverty among individuals with disabilities. This cycle can be broken by providing students with disabilities the necessary skills, knowledge and qualifications needed to enter and compete in the workforce. By reducing the skills gap and enhancing their employability, we contribute to a more inclusive labor market and reduce unemployment rates, thus cultivating sustainable economic growth.

Persons with disabilities make up a significant consumer market. When individuals with disabilities are included in the school system, and later enter the workforce, they become active participants in the economy. Their purchasing power stimulates various industries. Inclusion, therefore, not only benefits individuals with disabilities but also expands the consumer base which drives economic growth.

Inclusive education nurtures a sense of belonging and social cohesion among students. By providing equal opportunities and fostering an inclusive learning environment, schools promote understanding, empathy, and respect for diversity. This, in turn, contributes to social progress and sustainable economic growth. Inclusive societies are more likely to attract investment, retain talent and foster innovation.

Why supporting access to employment is important for persons with disabilities
Access to employment empowers individuals with disabilities to become economically independent. It enables them to earn a living, support themselves and their families, and contribute to the overall economy. When persons with disabilities have access to employment opportunities, they can break free from the cycle of dependency and reliance on social assistance programs, leading to greater financial stability and improved quality of life.

Supporting access to employment for persons with disabilities upholds their fundamental rights and promotes equality. Persons with disabilities deserve the same opportunities as their peers to pursue fulfilling careers and contribute their skills and talents to the workforce. By eliminating discriminatory practices and ensuring equal access to employment, we create a more just and inclusive society.

Persons with disabilities possess a diverse range of skills, talents and perspectives. When they are included in the workforce, it enriches the talent pool and promotes diversity in the workplace. This diversity leads to increased innovation, creativity, and problem-solving abilities. Employers who embrace diversity benefit from a wider range of ideas, experiences and approaches. This ultimately enhances productivity and competitiveness, once again benefitting everyone, not just those with disabilities.

By supporting access to employment for persons with disabilities, we foster inclusive work cultures. Inclusive workplaces celebrate diversity, promote tolerance and understanding, and create a sense of belonging for all employees. This inclusive environment benefits not only employees with disabilities but also their colleagues, and promotes a positive work atmosphere and enhancing employee morale and satisfaction.

Many individuals with disabilities possess valuable skills and qualifications that are underutilized due to barriers to employment. Supporting their access to jobs helps bridge the skills gap by tapping into this often-overlooked talent pool. By providing opportunities for skill development, vocational training and professional growth, we can address labor market needs and ensure that the talents and abilities of persons with disabilities are fully expressed.

Inclusive employment practices contribute to economic growth and productivity. When persons with disabilities are employed, they contribute to the overall output of goods and services, generating economic value. By harnessing their skills, knowledge and expertise, we maximize human capital and drive innovation and competitiveness in various industries.

Supporting access to employment for persons with disabilities plays a crucial role in changing societal attitudes and perceptions. When employers actively recruit and retain individuals with disabilities, it challenges stereotypes and misconceptions surrounding disability. This shift in perception promotes inclusivity, reduces stigma and fosters a more accepting and equitable society.

To conclude, the inclusion of persons with disabilities in education and the workplace is an opportunity to create a more equitable and prosperous society. By implementing inclusive policies, we can empower individuals with disabilities, ensure equal access to education and employment, and celebrate their unique talents and abilities. It is our responsibility to champion inclusion, foster a culture of understanding, and ensure that no one is left behind. Together, let us build a future where diversity is embraced, and everyone has an equal chance to succeed.


***
Zhao Li is the lead shepherd of APEC Human Resources Development Working Group.