2019 APEC Women and the Economy Forum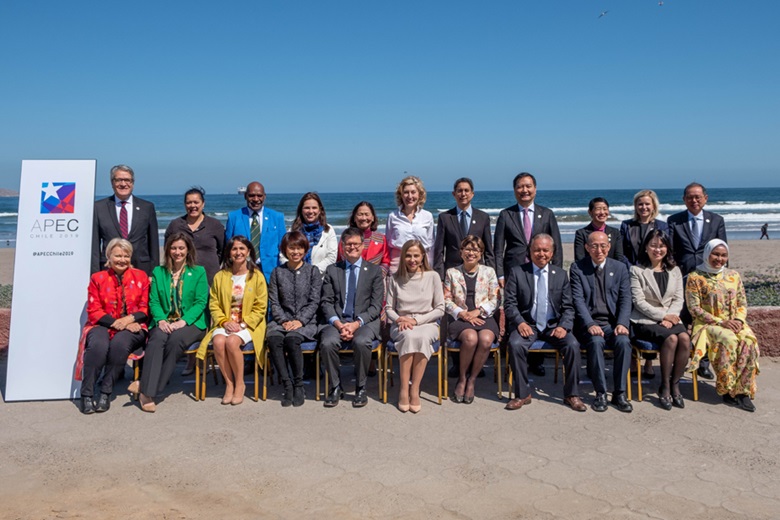 2019 APEC WOMEN AND THE ECONOMY FORUM STATEMENT
October 4, 2019
We, APEC Ministers and Heads of Delegations, met in La Serena, Chile, from September 30 to October 5, 2019 for the APEC Women and the Economy Forum (WEF). We welcomed the attendance of the APEC Business Advisory Council (ABAC), the private sector and civil society organizations. The High-Level Policy Dialogue on Women and the Economy and the Public Private Dialogue on Women and the Economy were chaired by Chile's Minister of Women and Gender Equity, Ms. Isabel Plá.

Advancing women's economic integration in the APEC region is a task that, as a forum, we have been promoting for nearly twenty years. Recognizing the need to continue promoting women's economic participation across the region, we call on all APEC members to sustain these efforts and take full advantage of APEC's initiatives. Notably, these have included: the "2019 APEC Women and the Economy Dashboard", a useful tool for reporting and collecting data that informs evidence-based policy discussions, and the "Women and the Economy Sub-Fund" which aims to institutionalize and provide ongoing support to advance APEC's objectives of increasing women's economic participation.

We welcome these and other advancements by APEC and recognize that there is still work to be done. In this regard, we applaud this year's renewed involvement of the public and private sectors in APEC women's economic empowerment agenda. We welcome that for the first time in APEC's history, women's economic integration has been featured as a

host economy priority under "Women, SMEs and Inclusive Growth". This emphasis provides a unique opportunity to promote and elevate this agenda across APEC.

We reiterate our commitment to promoting women's economic empowerment and inclusion through our work under the five pillars of the Policy Partnership on Women and the Economy (PPWE)

: (1) access to capital and assets; (2) access to markets; (3) skills, capacity building, and health; (4) leadership, voice, and agency; and (5) innovation and technology.

We welcome the 2019 WEF theme

"Advancing the Inclusion of Women in the Economy" as it acknowledges that women often face significant obstacles to full participation in the global economy and recognizes the untapped potential of women's contributions to our region's economy. This year's High-Level Policy Dialogue's discussions on "Facing existing challenges for the integration of women in the economy" and "Preparing women for the future and emerging market demands" fostered fruitful exchanges and produced valuable insights into how we can collectively work to remove barriers and ensure economic opportunities for women, today and in the future.

We encourage economies to develop public policies that address the cultural, social, structural and other barriers

that women from diverse backgrounds frequently face when

trying to access capital and participate in formal labor markets. These challenges negatively impact economic growth and hinder prosperity for women and their families, as well as for communities, economies, and our region.

We acknowledge that gender occupational segregation, discrimination and unequal sharing of care responsibilities negatively affect women across all economies. Women in the region are disproportionately engaged in unpaid work and represented in low-wage and/or insecure occupations. We encourage public and private efforts to reduce the unequal distribution of unpaid care work and domestic work, and welcome initiatives that promote parental and care co-responsibility.

In addition to addressing systemic barriers, we encourage economies to adopt policies that create a more inclusive labor market by targeting the gender wage gap and by enhancing the recruitment, retention, integration and advancement of women of diverse backgrounds. For women to become drivers and beneficiaries of global economic growth, their participation in higher-wage, high-growth industries, including STEM fields, must increase as well.

We acknowledge that access to quality education, skills development, capacity-building, and technological literacy are essential for women to navigate an increasingly dynamic economic environment and be competitive in the digital economy and the Fourth Industrial Revolution. We also underscore that further effort is needed to address the various factors behind the

digital gender gap, such as potential negative gender biases and socio-cultural stereotypes, among other, as this chronically hinders women's access to an increasingly digital labor market.

We recognize that data are fundamental to advancing the inclusion of women in the economy.

We encourage greater efforts to collect, analyze, disseminate and leverage sex-disaggregated data.

We call on APEC to build on existing measurement initiatives to inform policymaking that effectively promotes equal opportunities and women's economic empowerment.

We welcome the "2019 Women and the Economy Dashboard Report" and recognize it as a key source of information on the status of women in the region. We encourage APEC member economies to collect and contribute data to this Dashboard, and to leverage its indicators to support domestic policy initiatives.

We welcome the outcomes of the Public Private Dialogue on Women and the Economy and encourage further steps to engage with the private sector. We encourage private sector and public-private initiatives that foster the recruitment of women into leadership and decision-making positions in corporate settings.

We welcome The Santiago Roadmap for Women and Inclusive Growth document*, which will catalyze policy actions for driving greater economic participation of women in the Asia-Pacific region.

APEC Women and the Economy Forum 2020

We look forward to our next APEC Women and the Economy Forum and related activities in Malaysia in 2020.
* APEC Senior Officials agreed on 7 December 2019 to change the name to La Serena Roadmap for Women and Inclusive Growth.