2015 APEC Finance Ministerial Meeting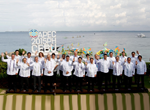 We, the Finance Ministers of the Asia-Pacific Economic Cooperation convened our 22nd meeting in Mactan, Cebu, Philippines on 10-11 September 2015 under the Chairmanship of Mr. Cesar V. Purisima, Philippine Secretary of Finance. The Meeting was also attended by the President of the Asian Development Bank (ADB), the senior management of the International Monetary Fund (IMF) and the World Bank Group (WBG), the Secretary-General of the Organisation for Economic Co-operation and Development (OECD), Executive Director of the APEC Secretariat, Secretary General of the Association of Southeast Asian Nations (ASEAN), and the Finance and Economics Working Group Chair of the APEC Business Advisory Council (ABAC).

We exchanged views on economic and financial developments that are shaping APEC's current and future economic performance. We reaffirmed the role of macroeconomic and structural policies to support our efforts to achieve strong, sustainable, inclusive, and balanced growth in the region.

We welcome the continued important contribution the APEC region is making to global economic growth. Amidst uncertainties and financial market volatility, growth remains moderate and uneven, and risks remain on the downside. Disruptions in the financial markets and raising long-term potential growth are key challenges. We maintain our commitment to strengthen economic growth and promote financial stability in the APEC region.

We will continue to implement our fiscal policies flexibly, taking into account near-term economic conditions, so as to support economic growth and job creation, while ensuring fiscal sustainability. We reaffirm our previous commitments on monetary and exchange rate policies. We will refrain from competitive devaluation and resist all forms of protectionism. We reaffirm our commitments to address weaknesses in our economies and unleash new sources of potential growth, including through new structural reform actions and fulfilling existing reform commitments.

Under the Philippines' APEC 2015 theme of "Building Inclusive Economies, Building a Better World", we are submitting the Cebu Action Plan (CAP) to the Leaders (Annex A). The CAP is a voluntary and non-binding Roadmap aiming to create an APEC community that is more prosperous, financially integrated, transparent, resilient, and connected. We have identified action programs under four pillars that will support the CAP, namely: (i) promoting financial integration; (ii) advancing fiscal reforms and transparency; (iii) enhancing financial resilience; and (iv) accelerating infrastructure development and financing. The CAP continues the progress towards the Bogor Goals of free and open trade and investment, as well as the Kyoto Report on Growth Strategy and Finance of identifying priorities for future growth in APEC region.

Financial markets that are efficient, innovative, and competitive are important to continued APEC growth. Regional financial development and integration are needed in APEC's financial markets to achieve economies of scale. In this regard, we will continue to promote financial integration, while balancing other considerations, such as investor protection, market integrity, regulatory conditions, monitoring de-risking, and financial stability, as these will pave the way for greater intra-regional trade and investments, and facilitate the development of more inclusive financial markets across APEC. In particular, we will move towards more liberalized financial services and capital accounts across APEC Economies.

Efficient and affordable financial services are critical to the success of economic activity at all levels including micro, small, and medium enterprises. To this end, we will promote trade and supply chain finance and alternative financing mechanisms in APEC to facilitate intra-regional trade and investment activities and greater regional integration, and boost inclusive growth. In particular, we welcome the collaborative efforts of the ABAC, WBG, SME Finance Forum, OECD, and APEC member economies in establishing a Financial Infrastructure Development Network as a specialized subgroup in the Asia-Pacific Financial Forum to promote the development of effective credit information systems, as well as secured transactions and insolvency frameworks that would facilitate the use of movable assets as collaterals in the credit markets. We welcome the progress on the G20/OECD High Level Principles on SME Financing.

A well-organized expansion of financial inclusion and literacy is crucial to poverty alleviation and greater economic opportunities within APEC. To this end, we reiterate our commitment to further enhance financial inclusion in building inclusive economies and a better world for APEC. We agreed to share and exchange our experiences on policy innovations and reforms in financial inclusion and literacy.

We recognize the importance of remittance flows in supporting sustainable and balanced growth in the region, as well as the role they play in fostering greater financial inclusion. Therefore, we support the G20 efforts and encourage APEC economies to develop and share their own plans to reduce average transaction costs of remittances to five percent.

We also note the progress of the Asia Region Funds Passport (ARFP) and the signing of the Statement of Understanding by participating APEC Finance Ministers here in Cebu, and we encourage the signing of the Memorandum of Cooperation within this year by participating APEC economies.

We recognize the importance of fiscal transparency to good governance and policy reform. It has been an essential principle in the APEC process for promoting economic stability and meeting the Bogor Goals of free trade and investment. Consequently, we will share knowledge of best practices in public investment frameworks and work towards international best practices in fiscal transparency. We welcome the publication of a reference material on APEC economies' practices in setting up and maintaining Open Data Portals.

We also reaffirm our Leaders' commitment to rationalizing and phasing out inefficient fossil fuel subsidies that encourage wasteful consumption while still providing essential energy services.

We acknowledge the importance of working together to tackle cross-border tax avoidance and evasion. To this end, we welcome the progress of the G20/OECD Base Erosion and Profit Shifting Action Plan in 2015, together with the proposed commitments relative to the exchange of information on request and the Automatic Exchange of Information (AEoI).

We are committed to enhance our financial resilience in the APEC region through the maintenance of sufficient fiscal space and building deeper financial markets to better absorb economic shocks. We committed to continue macroeconomic cooperation, including the sharing of experiences in macroprudential policy framework and resilience to external capital flow volatility.

In view of the high costs borne by many APEC economies due to natural disasters, we reiterate the importance of reinforcing our resilience. To this end, we will work collectively in bolstering our regions' financial resilience through the development of innovative disaster risk financing and insurance mechanisms, and other risk transfer instruments available through the capital markets.

We will commission the ADB and the OECD to jointly conduct a stock take and prepare a report on managing financial risks of disasters as contingent liabilities in public finance frameworks. We will also task the World Bank Group to conduct a study and prepare a report on options for regional disaster risk financing mechanisms, including risk pooling, among interested APEC economies, and will work with relevant international organizations to develop the financial aspects of comprehensive disaster risk management frameworks, where appropriate.

We also recognize the heightened role of capital markets in enhancing financial resiliency through the promotion of risk transfer, financing for MSMEs and infrastructure in the APEC region. To this end, we support the development of a roadmap to improve regional financial infrastructure to enhance resilience. We encourage efforts to promote deep and liquid markets through improved access of participants to hedging instruments and relevant market information.

We recognize the importance of quality infrastructure development and financing in the APEC region, as stated in the APEC Connectivity Blueprint, in light of the increasing urbanization, growing population, and the intensifying linkages across APEC economies. Accelerating infrastructure development will contribute to bolster recovery and sustain economic growth in the region.

We take note of the significant progress in the implementation of the APEC Multi-Year Plan on Infrastructure Development and Investment (MYPIDI) and APEC Connectivity Blueprint for 2015-2025 endorsed by the APEC Leaders in 2013 and 2014, respectively, particularly on the work of promoting PPP infrastructure financing. This year, we look forward to the development of an APEC PPP knowledge portal that will be an online repository of PPP Infrastructure projects undertaken by APEC economies and a content guide for the compendium of standard PPP terms and practices.

We will closely collaborate with the Global Infrastructure Hub to establish a PPP knowledge portal with the following possible preliminary contents: (i) PPP infrastructure projects undertaken by APEC economies; (ii) directory of private firms, consultants, and experts involved in PPP infrastructure projects; and (iii) financial and legal, public and private risk mitigation instruments available to infrastructure investors in the region.

We also recognize the importance of developing quality infrastructure as an asset class for institutional and long-term investors in the APEC region. This will facilitate the mobilization of regional savings into infrastructure investment. Therefore, we encourage APEC economies to exchange experiences in facilitating long-term investment in infrastructure, through public-private initiatives by promoting the role of pension funds and insurance industries to take a proactive position in infrastructure investment.

We take note of the rapid urbanization in APEC and we would like to stress its role in promoting innovative growth, inclusive and sustainable development in the region. To this end, we reiterate our commitment to share experiences and best practices in urbanization and sustainable development.

We also appreciate the work of ABAC, ADB, IMF, OECD, and WBG. We welcome their work in support of the Cebu Action Plan, particularly the proposed studies and published reports listed in Annex B. We thank ABAC for its contributions to our work on infrastructure, MSME Finance and capital markets through the Asia-Pacific Infrastructure Partnership (APIP) and the Asia-Pacific Financial Forum (APFF). We encourage continued strong private sector engagement in these initiatives. We commend ABAC and ADB for convening this year's Asia-Pacific Forum on Financial Inclusion.

Strong coordination with the private sector remains an effective feature of the APEC process. We welcome ABAC's report and contributions to the CAP on SME finance, financial inclusion, disaster risk finance, and microinsurance. We commend the private sector's work on infrastructure investment, development of the insurance and retirement income industries and capital markets. We encourage continued work on investment policies and valuation practices. We also welcome the convening of the Finance Sector Roundtable held in parallel with our meeting and our subsequent dialogue on how both public and private sectors can support the implementation of the CAP.

We thank the Philippines for hosting the APEC Finance Ministers' Process this year. We will meet again for our 23rd meeting in Lima, Peru in October 2016.