2004 Leaders' Declaration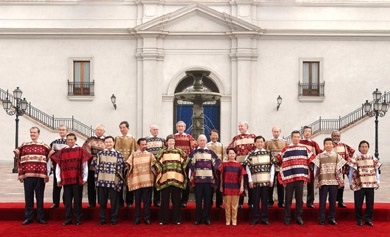 We gathered in Santiago for the 12th APEC Economic Leaders' Meeting, under APEC's 2004 theme, "One Community, Our Future". We reaffirmed our commitment to achieve sustainable and equitable growth and reduce economic disparities for the well-being of our people by meeting the Bogor Goals of trade and investment liberalization and facilitation, enhancing human security, and promoting good governance and a knowledge-based society.
Advancing Development through Trade and Investment Liberalization
We reaffirmed the primacy of the rules-based multilateral trading system, which allows us to pursue trade liberalization on a global scale. We welcomed the new momentum acquired by the Doha Development Agenda (DDA) negotiations resulting from the July Package adopted by the General Council of the World Trade Organization (WTO). We pledged to provide leadership to continue this momentum. With a view toward fulfilling the development objectives of the DDA, we agreed:
To work with a renewed sense of urgency to achieve a balanced overall outcome that will meet the high levels of ambition set for these negotiations, while respecting flexibility and taking into account the principles of special and differential treatment. Particularly in the core areas of agriculture, non-agricultural goods, services, and rules, the outcome should be substantially greater market access and fewer distortions;

To seek substantial results at the Sixth WTO Ministerial Conference and instruct our Ministers and officials to work in earnest toward this goal. Our Ministers will review progress of the DDA negotiations at their next meetings;

To contribute to negotiations on trade facilitation by sharing our considerable experience within APEC with the rest of the WTO and strengthening our work in this area;

To redouble our efforts to provide technical assistance and capacity building -in a more strategic manner- thus underpinning progress in the WTO through full and effective participation of all Members; and

To support efforts to conclude promptly the accessions of the Russian Federation and Viet Nam to the WTO.

We call on all WTO Members to join us in this endeavor.
With regard to Regional Trading Arrangements and Free Trade Agreements (RTAs/FTAs), we agreed that they play a constructive role in accelerating liberalization in the region, thus contributing to the achievement of the Bogor Goals and advancing the WTO process. To strengthen this contribution and ensure high-standard agreements, we welcomed the APEC Best Practices for RTAs/FTAs which are a meaningful reference for APEC members when undertaking RTAs/FTAs negotiations. We also committed to greater transparency in RTAs/ FTAs to facilitate public understanding of the scope and effect of these agreements.
We recognized that improved protection and enforcement of Intellectual Property Rights contribute to the promotion of investment, innovation and economic growth. We welcomed APEC's work on the APEC Comprehensive Strategy on Intellectual Property Rights and encouraged further progress in 2005.
Santiago Initiative for Expanded Trade in APEC
We agreed to launch the Santiago Initiative for Expanded Trade in APEC to complement the achievement of free and open trade in the region. An overarching dimension of the Initiative is capacity building so that all economies can implement and benefit from their work on trade liberalization and facilitation.
The Initiative has two components:
Trade and Investment Liberalization: Ministers will recommend to us next year how to further liberalize trade and investment in the region, taking into consideration progress made in the WTO DDA negotiations, the mid-term stock take of the Bogor Goals, APEC work on RTAs/FTAs, and other unilateral and collective market-opening actions;

Trade Facilitation: We will continue our work to reduce business transaction costs by cutting red tape, embracing automation, harmonizing standards and eliminating unnecessary barriers to trade. We will also work together to advance the trade facilitation negotiations in the WTO, promote secure trade, and build on the APEC Best Practices for RTAs/FTAs in the area of trade facilitation;
ABAC presented us two relevant proposals: a joint scoping study for a Trans-Pacific Business Agenda; and a study of the feasibility and potential scope and features of a Free Trade Area of the Asia-Pacific.
We welcomed the inputs from our business community, including ABAC's resolve for expanding trade, and we share its view on the critical importance of trade facilitation. We look forward to the continued participation of ABAC as we implement the Santiago Initiative. In particular, we invited ABAC to provide its views on emerging trade facilitation issues as well as on the benefits and challenges that arise for business from the increasing number of RTAs/FTAs in the region and ways that these can be addressed.
Enhancing Human Security - Underpinning Economic Growth
We recalled the heinous acts and terrible consequences of terrorism as tragically manifested in Beslan and Jakarta during this past year. We reaffirmed our determination to advance the prosperity and sustainable growth of our economies and the complementary mission of ensuring the security of our people.
We encouraged relevant APEC economies to take measurable steps towards the ratification and implementation of, or the commitment to ratify, all basic universal antiterrorist conventions, so as to demonstrate APEC's unmistakable resolve to collectively confront the threat of terrorism and its disastrous effects on the people and also the economies of the region. In this context, we agreed to take steps to cut off terrorists' access to the international financial system, including implementing standards and agreements on combating terrorist financing and money laundering.
We commended the additional APEC work this year to help enhance the security of our people. We also commended the success of the APEC process and informal consultations in building consensus on these issues. We welcomed the further consensus arrived at by Ministers, and agreed to take the appropriate individual and joint actions to follow up on this consensus, in line with our respective circumstances. We welcomed the following actions adopted by APEC economies this year:
Steps to advance compliance with the International Maritime Organization's new Ship and Port Security Standards through cooperative efforts;

Financial contributions made to the Asian Development Bank's Regional Trade and Financial Security Initiative;

Progress in implementing business mobility initiatives, including the Advance Passenger Information systems (API), the development of a Regional Movement Alert List System (RMAL), and cooperation for the issuance of machine readable travel documents by 2008;

Cooperation on the supervision of exported and imported food, to prevent hidden hazardous or toxic materials; and

Efforts to strengthen the public health system to respond to regional health threats.

We expect to review progress on our commitments to dismantle trans-national terrorist groups, eliminate the danger posed by proliferation of weapons of mass destruction, their delivery systems and related items, and confront other direct threats to the security of our region in the future.
We endorsed the initiative on Fighting against AIDS in APEC, and pledged our political commitment to work together, at the regional and global levels, to combat the further spread of the AIDS pandemic. We support efforts to increase access to health care and safe and affordable drugs for all people living with AIDS.
We encouraged new efforts during 2005 by APEC to address the specific threats posed by infectious diseases such as Severe Acute Respiratory Syndrome (SARS), avian flu, pandemic influenza, tuberculosis, malaria and polio in the Asia Pacific Region and to strengthen the research into and production of relevant vaccines. We also welcomed and endorsed the strategic plan to promote life sciences innovation in the region to improve the health and well-being of our people.
As a response to global concerns about high oil prices, and in keeping with our commitment to promote energy security, sustainable development and common prosperity within the APEC region, we instructed Energy Ministers to continue to implement and enhance the APEC Energy Security Initiative.
Promoting Good Governance and a Knowledge-Based Society
Corruption is a serious threat to good governance and deters investment. Therefore, fighting corruption is essential to the development of our economies for the benefit of our people. We welcomed the timely commitments and recommendations of ABAC in this regard.
Accordingly, further to our agreement in Bangkok to fight corruption, we endorsed the Santiago Commitment to Fight Corruption and Ensure Transparency. We also endorsed the APEC Course of Action on Fighting Corruption and Ensuring Transparency which develops and implements it, including through the APEC anti‑corruption initiative From Santiago to Seoul.
Reaffirming our political commitment to promote structural reform, and recognizing its value for achieving sustainable economic growth, including through improving the functioning of markets, we adopted the Leaders' Agenda to Implement Structural Reform (LAISR).
We underscored the need to deepen capacity building initiatives in the region through private/public partnerships and increased interaction with international financial institutions.
We welcomed APEC's efforts in the field of education, in particular work undertaken to promote the use of English and other languages as tools for small and medium enterprises, and the use of information technology tools to assist the learning process.
We called upon our officials to advance toward an APEC Sustainable Development Framework, that will build on the work being carried out by APEC and ensure that the growth and development of the region is enjoyed by future generations. We instructed them to report on progress by the time we meet in 2005.
We welcomed Ministers' report on the progress made this year to strengthen APEC. We reaffirmed the need to continue to make APEC more efficient and responsive to all stakeholders.
We endorsed in full the Joint Statement agreed by Ministers at the 16th APEC Ministerial Meeting.