Last page update: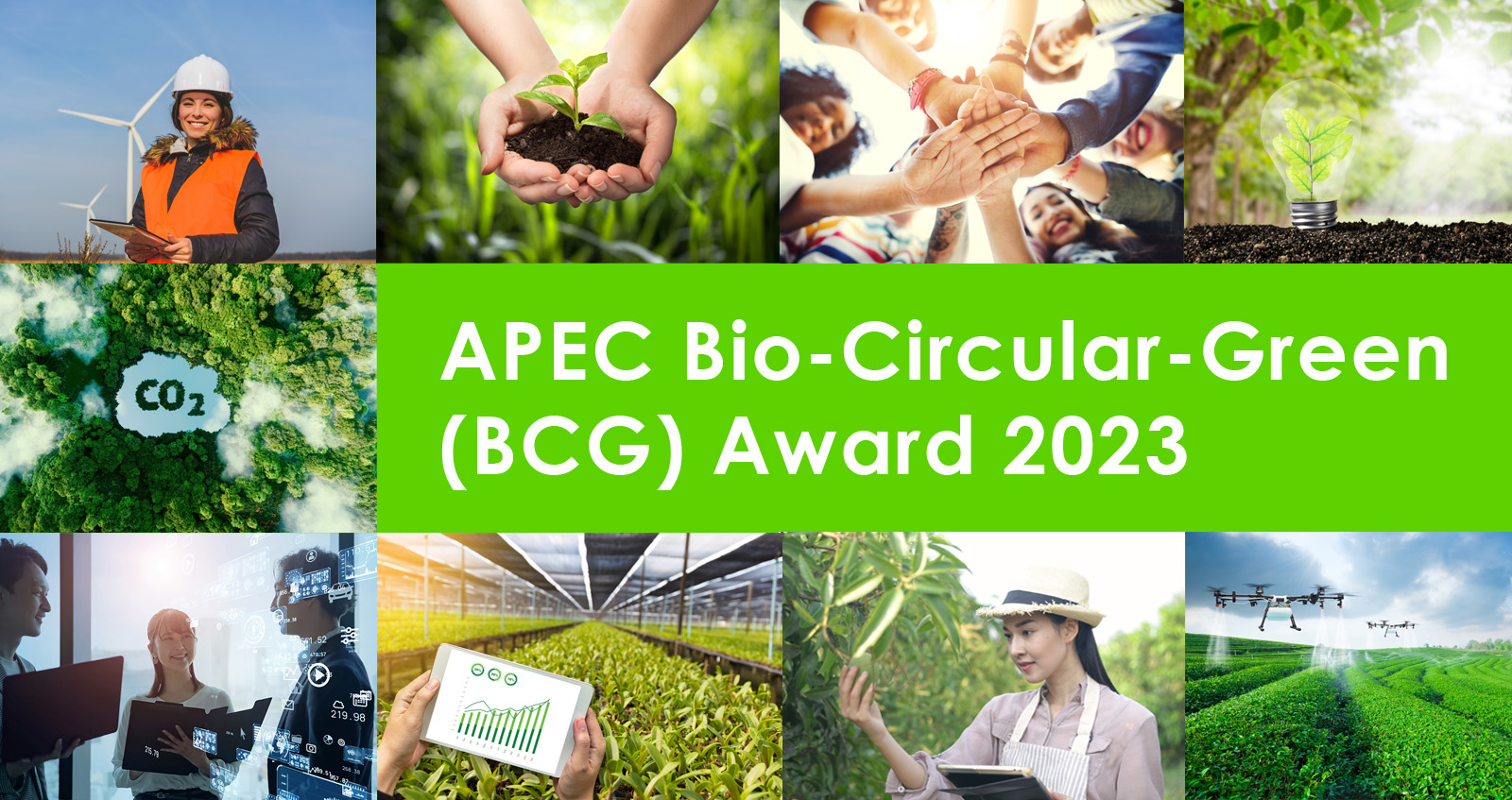 OVERVIEW
In November 2022, APEC Ministers launched the APEC BCG Award at the 33rd APEC Ministerial Meeting (AMM) held in Bangkok, Thailand.
The APEC BCG Award recognizes distinguished individuals and/or organizations that have concretely implemented BCG economy approaches to advance sustainable and inclusive growth, to serve as examples and inspirations for the wider communities to learn from, replicate and apply in their own settings. In turn, the award supports and contributes to the implementation of the Bangkok Goals on BCG Economy.
The three award categories are women, youth and MSMEs, which seek to highlight the unique contributions of each group while underscoring the critical importance of whole-of-society partnerships and an inclusive approach to implement the BCG economy model.
In 2023, the APEC BCG Award will be awarded to two winners for each award category. Each winner will receive a prize money of USD5,000.
The award is co-proposed by Canada; China and Thailand, and co-sponsored by Hong Kong, China; New Zealand; Peru and the United States. The prize money is currently funded by contributions from Canada; China; Hong Kong, China; and Thailand.
---
2023 APEC BCG AWARD: NOMINATIONS
Each member economy, through its representative in the SCE, is invited to nominate one candidate to be considered for each award category. All nominations should be submitted to the SCE Program Director from 1 March 2023 to no later than 30 June 2023.
Nominations for each award category should follow the corresponding eligibility criteria:

Women
Youth
MSMEs
Woman-owned business: exercise ownership of at least 50 percent of the total capital

or

voting power of at least 50 percent of a juridical person
Age: not over the age of 30 (as of 31 December 2023)
Number of Employees:
Not over 500.
In operation for at a minimum of one calendar year.
Be a citizen and/or resident and/or own and operate a business in the nominating APEC economy.
Represent a replicable BCG business model/approach/activity(ies).
Nominations must reflect strong linkages with the BCG economy and the implementation of the Bangkok Goals on BCG Economy. They should also support the APEC 2023 theme "Creating a Resilient and Sustainable Future for All" and priorities "Interconnected. Innovative. Inclusive."

---
SELECTION PROCESS

Once the nominations are received, they will be ranked by a selection committee to determine the winner for each award category.

The 2023 award winners will be announced at the 34th APEC Ministerial Meeting scheduled for November 2023 in San Francisco, USA.