Passports, Tickets and Face Masks: COVID-19 and Cross-Border Mobility in the APEC Region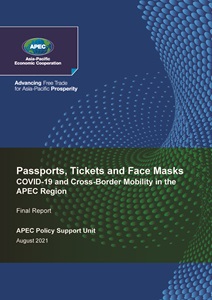 | | |
| --- | --- |
| Published Date | August 2021 |
| Type of Publication | Reports |
| Publication Under | APEC Secretariat, APEC Policy Support Unit |
| Accessed | 5608 |
| Pages | 81 |
| Download publication | Download |
Description
Cross-border movement of people is essential for trade and economic activity. Apart from the linkages in terms of tourism and transportation, cross-border movements of people contribute to economic growth by enabling logistics and supply chains, investments, employment, education, and capacity building. Indeed, using data up to 2019, the study finds strong and synergistic linkages between cross-border movement and bilateral trade and economic growth. But in 2020, the COVID-19 pandemic led to border closures and restrictions as economies sought to contain the virus.

A survey conducted in late 2020 shows many similarities in the types of measures implemented at borders, but also highlights many variations and differences in the details of how these measures are implemented. These border measures have led to uncertainty for travelers and quashed demand: airline booking data indicate that cross-border arrivals in APEC fell by 75% in 2020. While the effectiveness of these border restrictions in preventing imported cases from seeding waves of the pandemic is mixed, their impact on trade, economic activity, and people are immediate and substantial. Estimated direct trade losses due to the fall in cross-border movement range from USD 488 billion to USD 786 billion, while losses from unrealized economic activity is estimated at USD 1.2 trillion.

Previous attempts at safe reopening have been tentative and uncertain due to the changing COVID-19 situation around the region. This study presents some recommendations to enable safe reopening of borders and outlines a role for APEC.